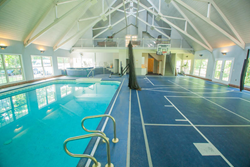 As part of Paramount Realty's innovative approach to real estate, the property is offered with a relocation package.
Franksville, WI (PRWEB) February 25, 2016
Paramount Realty announces a relocation package of up to seventy-five thousand dollars in conjunction with the offering of a six bedroom, five bath executive home in Racine county, Wisconsin. The eleven thousand five hundred square foot private residence on three acres provides easy access to both Chicago and Milwaukee. Offered at $1,250,000, this unique home includes an indoor pool, sauna/hot tub and basketball court. As part of Paramount Realty's innovative approach to real estate marketing, the property is offered with a relocation package as an incentive to business executives and companies looking for a luxurious home with a manageable commute. Comparable homes in Chicago sell for up to four times as much without the abundant property or outdoor amenities.
As part of the relocation package, buyers may choose to realize the savings as cash back at the closing enabling an easy transition from their previous residence. With a recent influx of national and international corporations expanding in northeastern Illinois and Wisconsin, Paramount Realty hopes to lure executives looking for luxury and privacy at a price that is unimaginable in a major city. A twenty minute drive to Milwaukee and nearby public rail access to Chicago make this a tremendous opportunity for a family to enjoy a truly stunning home and property for a fraction of what it would cost in the city.
The home is located at 6810 Hoods Creek Rd., Franksville, Wisconsin53126-9427. "At $108.70/square foot, this property is a remarkable deal before considering the relocation package. Similar offerings in Chicago sell for between $250-$500 per square foot" according to Dan Konicek, owner of Paramount Realty. "It is ideal for an executive intending to move into it with his/her family as a primary residence." The house features twenty three rooms as well as an attached five car garage. A new roof was installed in 2014, new kitchen appliances in 2012 and new carpeting in 2013. Built in 1991, this custom built home sits on a quiet dead-end street with easy access to both Milwaukee and Chicago via I-94.
Paramount Realty is a full-service residential real estate sales company that serves Southeastern Wisconsin. We're a local brokerage with no affiliation to national real estate franchises. This means that our only boss is you, the client! It also means that we have greater flexibility to operate than most agencies and don't have to subscribe to practices that costs our clients' money.