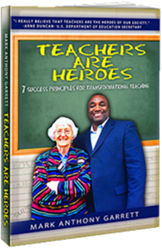 "... there is no way to underestimate their importance. A teacher has so much power in their hands, and as you can see from my personal story, when a teacher truly cares, it can be life changing," say Garrett.
Columbus, Ohio (PRWEB) February 25, 2016
One third of American seniors lack math proficiency. As much as 42 percent of college students require remedial language and math once they reach college. Students even in wealthier districts with money for SMART education struggle to educate. According to educational consultant and motivational speaker Mark Anthony Garrett, all is not lost. Things are not hopeless. All across the country there are success stories coming out of charter schools, inner city classrooms, and rural districts because teachers who care, who are motivated are finding ways to reach students and empower them to learn. Teachers Are Heroes - 7 Success Principles for Transformation Teaching is the newest book from Garrett, written from a deeply personal perspective.
Garrett was a physically and sexually abused child, caught in the US foster care system. He might have been lost to the stress of his home life, school and being a special needs child had it not been for a dynamic teacher who stepped in and made a difference. Betty Jean Ritchie was his hero. She not only worked with him to get ahead in his schoolwork, but also motivated him to go the distance and never give up on life. Garrett credits her perseverance, love and compassion with his eventual personal and business success.
"Sometimes teachers see and interact with children more hours in a week than their parents do," say Garrett. "So there is no way to underestimate their importance. A teacher has so much power in their hands, and as you can see from my personal story, when a teacher truly cares, it can be life changing."
His book, Teachers Are Heroes, is a guide to inspirational and transformational teaching. Garrett has been a motivational speaker for years among educators and administrators, sharing a powerful message of compassion, resiliency and encouragement. More information on Garrett's message can be found at, TeachersAreHeroes.com. His book was meant to inspire teachers to be more self-confident, embrace their passion for teaching and lead the charge towards a brighter future for the students they serve. "A good teacher can change your whole life," say Garrett. "I know from experience. These heroes sacrifice so much of their lives for their students. They deserve ultimate respect and acknowledgement."
About the Book
The 7 Success Principles within this book will help inspire them to teach with passion and remind them of how truly important they are in the lives of the students they serve. It's time to remind the world of just how important these heroes are to our society.
This book will help teachers to:

Teach with a high sense of purpose
Have a conviction that every child is worth saving
Rekindle their unique passion for teaching
Make integrity a guiding principle
Embrace adversity through courage
Unleash the hero within
For more information or to make a purchase, visit: http://teachersareheroes.com/the-book.html
An inspirational speaker for over 17 years, Mark Anthony Garrett grew up in the tough inner city of Dayton, Ohio as a foster child and was then later adopted. Although his surroundings were often negative, Mark was encouraged by a Teacher to NEVER GIVE UP on life and to always Strive for Excellence! Mark went on to become a two-time U.S. Achievement Academy Award Winner, recipient of the National Collegiate Minority Leadership award and received the highest honors given by his college, which were the President's and Trustee's awards. Mark also returned to college and earned a degree in entrepreneurship.