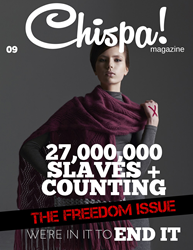 Our hope for The Freedom Issue is to make noise along with END IT.
Atlanta, GA (PRWEB) February 26, 2016
Joining forces with designers like Norma Ishak and photographers worldwide, the world of fashion meets purpose within Chispa Magazine's Freedom Issue, and they say: It's time to END IT. Today Chispa lets the world know that slavery still exists and they won't stand for it. The Red X featured in bright lights within The Freedom Issue is their way of shining a light on the 27,000,000 people trapped in slavery around the world. They believe awareness isn't everything, but without it, slavery will continue to exist.
Within their cover story, 27,000,000 Slaves and Counting, Chispa's editor, Mavian Arocha-Rowe explains: "As the world's fastest growing criminal industry, it affects every nation across the globe. What happened to the drug industry and its claim to being the fastest growing criminal industry? It's simple: a drug is made, sold, used, and completing its lifespan. A human body, continues to live and while it lives, it continues to bring its john (female or male, also known as Buyer or "Trick" is the individual who pays for/or trades something of value for sexual acts) financial security. It's the crime that keeps on giving and every 30 seconds, someone becomes a victim of modern-day slavery."
The number 27,000,000 may grab the attention of many, yet majority still believe the issue of slavery doesn't exist in America, and they're wrong. There are an estimated 60,100 people trapped in slavery in the United States right now. With photography worthy of awards, capturing the essence of the END IT movement, The Freedom Issue draws each of us in to be aware, with hopes of taking action within our own country, our own state, and our own communities.
"This issue is very dear to my heart for many reasons," says Arocha-Rowe. "For the past couple of years I have been in the front lines teaching young survivors [of sex trafficking] what their worth is, and how to become a leader despite their past. The power of the media is big, and although Chispa is only two years old, our hope for The Freedom Issue is to make noise along with END IT. May readers be impacted, encouraged, and drawn toward action," she adds.
Going on its fourth year, END IT's Shine a Light on Slavery Day has ignited a viral response on social media, led by influencers putting red X's on their hands. The END IT message has been amplified to millions via social media thanks to hundreds of celebrities, athletes, and politicians leveraging their networks and voices for the cause, resulting in #ENDITMOVEMENT becoming a top-trending topic on all social platforms.
"The Freedom Issue was way more than a new issue," says Lauri Bonilla, Chispa Magazine Social Media Manager. "I've participated in Shine a Light on Slavery Day for the last few years by wearing a Red X on my hand, but I didn't truly understand the impact of what I was participating in. Through this issue, I have gained more knowledge and passion about this topic than I could have imagined. It feels exciting to be just one piece in a movement that is going to multiply into something HUGE," she adds.
"Whether it's putting a red X on your hands, today, and keeping it alive in your heart for days to come with END IT or volunteering your voice, your talents or more toward any of the Coalition Partners, join us as we shed a light on slavery to END IT," says Arocha-Rowe.
With an international team and award-winning editor, Chispa Magazine carries the definitive voice to women and advocates the duty to live a life of Chispa. Published six times a year, the magazine is alive as a vehicle to bring light and consciousness for women of all roles in all seasons. Most importantly, they encourage readers to live beautifully and eternally purposeful. Each issue they electrify readers with in-depth conversations, elite celebrity interviews, appealing visuals that speak volumes to the fashion-paced mindset or the culturally-driven enthusiasts, and more. Standing far from superficial talks, Chispa Magazine provides the strategies that shape substance.