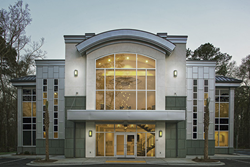 Hilton Head, SC (PRWEB) February 26, 2016
It's exciting when a prominent plastic surgeon like Dr. Frederick G. Weniger, MD, FACS, of Weniger Plastic Surgery introduces a signature line of incredible, innovative and effective skin care products to his patients and new clients. It has been a long, thoughtful and well-researched process developing this line of creams and serums designed for both women and men who are looking to maintain a youthful, healthy and radiant complexion.
It was a labor of love for both Dr. Weniger and Dr. Carmen Traywick of May River Dermatology, along with the LUX Ladies who were all involved in every detail comprising this exclusive line, which is the only skin care line created in the area by medical spa owners and staff.
Excellent efficacy and versatility allow Lumen created by LUX~A Medical Spa to stand high above alternative skin care lines. Since every individual has unique complexion issues and desires, each of the 27 anti-aging products has been formulated to address key concerns:

Improvement in Fine Lines and Wrinkles
Smoother and Softer Skin Texture
More Balanced Skin Tone
Fading of Spots and Pigment Problems
Improvement in Complexion Hydration
Overall Rejuvenated and Radiant Skin Appearance
Each product has been designed by Drs. Weniger and Traywick to be suitable for all skin types, as well as gentle to all complexions. Although powerful in anti-aging properties, these creams and serums have been developed to deliver great results without irritation. This innovative line of products has been tailored for topical application to the skin for morning and night. Exfoliation, moisturization, defined facial contouring and plumper, more buoyant facial skin, a smoother eye area and glowing complexion can all be achieved using the new Lumen Skin Care line.
These extraordinary products are available to purchase now at LUX~A Medical Spa. Located in Bluffton, South Carolina, LUX is convenient to Hilton Head and surrounding areas, including Savannah, GA. Skin care consultations are available with one of five South Carolina licensed estheticians and are complimentary. Recently awarded Best of Bluffton and Sun City Select "Best Medical Spa" 2016, an award voted on by the community, LUX~A Medical Spa offers a wide variety of treatments including chemical peels, injectables, Coolsculpting, laser hair removal, skin care treatments, laser treatments, vein treatments, and more.
Dr. Frederick G. Weniger is a board certified plastic surgeon and member of the American Society of Plastic Surgeons and the American Society for Aesthetic Plastic Surgery, as well as a Fellow of the American College of Surgeons. Regarded as the premier plastic surgeon in South Carolina, he performs a full array of procedures designed to enhance the face, breast and body, including rhinoplasty, facelift, brow lift, eyelid surgery, ear surgery, breast enhancement, liposuction, and body contouring.
Patients can set up an appointment for a complimentary skin care consultation to learn more about Lumen and to develop an individual skin care plan with a licensed South Carolina esthetician at (843) 757-0123.
Weniger Plastic Surgery
350 Fording Island Road – Suite 200
Bluffton, South Carolina 29910
http://www.wenigerplasticsurgery.com/