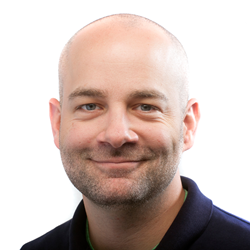 Chris Gavazzoni assumes new leadership duties with promotion to vice president, executive producer at Sandbox.
Chicago, Ill. (PRWEB) February 24, 2016
Sandbox, previously GA Communication Group, one of the nation's leading independent, full-service healthcare communications agencies, has elevated Chris Gavazzoni and Jean May to the position of vice president, executive producer. Both report to Steve Buecking, senior vice president, executive producer.
Chris Gavazzoni, formerly a senior producer, will have project-management oversight of multiple brands, working in a wide range of therapeutic categories. He will also coordinate with Sandbox account and creative leaders to identify areas for process improvements, supervise a team of eight producers and project coordinators, and develop solutions for ensuring both optimal quality and efficient workflow as Sandbox expands its project management department to meet the needs of a growing client base.
Gavazzoni joined Sandbox in 2001, working in a variety of account management positions before switching to the project management side of the business in 2012. He has worked on numerous award-winning campaigns, including initiatives recognized by the Rx Club Awards and Davey Awards. He holds a B.A. in journalism from Columbia College in Chicago.
Active in community service, Gavazzoni volunteers with a number of health-related organizations in the Chicago area, including The Lurie Children's Hospital, The Children's Heart Foundation, and The Cancer Support Center.
Jean May, formerly a senior producer, will work closely with Sandbox account and creative directors to ensure the delivery of high-quality work on time and on budget.
She will oversee project management for campaigns representing a wide range of products in diverse therapeutic categories, including a breakthrough new-indication launch. Responsible for the allocation of resources and overall profitability of assigned accounts, she will also supervise a team of producers and project coordinators, developing tools and strategies to optimize workflow and assure quality.
May joined Sandbox in 2013 as a producer. Previously, she worked at Chicago-based CAHG in a variety of account and project director positions over a period of eight years. She earned a Bachelor of Liberal Arts from Winona State University in Winona, Minn., majoring in mass communications and advertising, with a minor in cross-cultural communications.
Outside the office, May is a member of the Healthcare Businesswomen's Association and lives an active daily lifestyle that includes yoga, running and cross-fitness training.
About Sandbox
Launched in 2016, Sandbox is an independent, full-service agency formed by four complementary entrepreneurial agencies united by a "play well together" ethos of collaboration. Headquartered in Chicago, Sandbox operates from seven locations across the U.S. and Canada. Its roster of clients includes some of the most respected names in human and animal healthcare, agriculture, biotechnology, financial services, travel, and consumer products. To learn more, visit sandboxww.com.