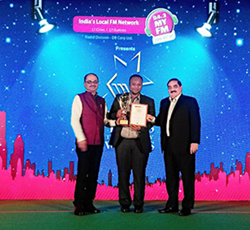 "These recognitions validate Kellton Tech's tireless efforts in IT space to transform businesses in the most effective manner", shares Karanjit Singh, CEO - Kellton Tech.
Mumbai, India (PRWEB) February 25, 2016
Kellton Tech Solutions Ltd., is recognized as the Emerging IT Company of the Year and Best e-governance Implementation at the National Awards in IT Excellence for 2016, governed by Asian Confederation of Businesses and 'Stars of the Industry' group. The awards were presented by Mr. Satyen Purandare- Corporate Sales Head (West Region) at 94.3 MY FM and Mr. Nand Kishore Badami- CMO at Cisco.
The Hyderabad-based global IT Company was awarded in the category of 'Best e-governance Implementation' for its contribution to the Digital India campaign. The company developed and deployed mSehat, an initiative by SIFPSA (State Innovations in Family Planning Services Agency) to minimize mortality rate of mother and the child in Uttar Pradesh. The mobile health solution is presently active in five districts of the state (Mirzapur, Faizabad, Sitapur, Bareilly and Kannauj), and is expected to be extended to the entire state very soon. The solution performed remarkably well by surpassing expected performance levels. The ten-fold rise in registrations stamped the application as easy-to-use and efficient in performance.
Kellton Tech also bagged an award for 'Emerging IT Company of the Year' for its notable performance in offering end-to-end IT solutions, strategic technology consulting and product development services in Web, SMAC (Social, Mobile, Analytics, Cloud), ERP-BPM, and IoT space. The company was ranked #21 on Deloitte Technology Fast 50 India in 2014, the global top level program to recognize best 50 fastest growing organizations in India.
The National IT Excellence Awards honours organizations that showcase exceptional performances in the IT space. The ceremony was attended by many prestigious organizations including Capgemini, SBI, Tech Mahindra, Titan, The Reliance Capital, HDFC, ICICI and many others.
About Stars of the Industry Awards
The Stars of the Industry Awards recognizes performance excellence across diverse sectors of Manufacturing, IT-ITeS, FMCG and Education. The National Awards in IT Excellence recognizes excellence throughout the IT industry. The awards program was created more than 40 years ago to recognize outstanding accomplishments under the banners of Golden Star Awards (Food, Hospitality & Services), IT People Awards, Best in Manufacturing Awards, Women Super Achiever Awards and Indira Marketing Excellence Awards.
About Kellton Tech Solutions Ltd.
Kellton Tech Solutions Ltd. is a public listed (BSE: KELLTONTEC), CMMi Level 3 and ISO 9001:2008 certified global IT services organization. It is headquartered in Hyderabad, India and has development centers in the United States and India. For two innovative decades, Kellton Tech has put into practice the vision upon which it was founded viz. "to offer infinite possibilities with technology". The company is committed to providing end-to-end IT solutions, strategic technology consulting, and offshore product development services. Kellton Tech serves the full gamut of customers including startups, SMBs, enterprises, and Fortune 500 businesses. The organization has serviced customers representing a wide range of verticals including retail, travel, e-commerce, education, hospitality, advertising, market research, manufacturing, consumer goods, logistics, SCM, and non-profits. Kellton Tech is also a global leader in providing Enterprise Mobility Solutions, Mobile Application Development & Internet of Things.