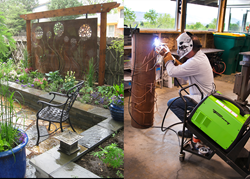 "Welding is not a difficult as you think, and it's certainly something that anyone can use around the house now."
Fort Collins, CO (PRWEB) February 29, 2016
Welding isn't just for the oil field and construction workers anymore. In fact, works of art, one-of-a-kind sculptures and intricate furniture are easily designed, welded and pieced together to create unique outdoor living spaces. Bringing the indoor lifestyle outdoors to a porch or a deck can be made possible with a plasma cutter and a welder. Think of it as adding an extra room to your home, without adding the square footage.
Welding shouldn't be intimidating for anyone. With the right gear, trial and error and a basic instructional class, you can become the next backyard artist. "Welding is a lot easier than you think," said Will Hyde, do-it-yourselfer, artist and founder of Mile High Landscaping in Denver. Mile High is a firm dedicated to creating outdoor spaces for enjoyable living. Hyde credits his mechanical and artistic mind for helping him maneuver his way around a welding machine. He practiced his craft and played with different ideas until he became more comfortable. "It's important for me to create outdoor spaces that my clients want to show off and where they want to spend time. Life can be stressful. There isn't a more relaxing way to wind down than to sit outside and relax."
First and foremost, Hyde is an artist who thinks outside the box when designing landscape projects. When he started his business, he noticed the demand for people who wanted outdoor art to enjoy while spending more time outside so he started welding customized pieces for outdoor living spaces. Hyde knows that working with metal ensures a strong and sturdy piece that lasts longer than pieces created with other materials. "Increasingly, we were getting more clients who were requesting outdoor pieces of art to punctuate their landscaping projects. I found that combining my artist ability with a welding torch and a plasma cutter was much easier and less expensive for the client. I was first intimidated by the thought of welding, but once I opened the box and practiced, I discovered that welding is truly something that anyone can do."
Hyde is armed with a Forney 190 multi-process (MP) welding machine that is a perfect fit for any do-it-yourselfer or experienced welder. He enjoys the Forney 190 MP because the 3-in-1 function allowing him the ability to work on any scale project or metal thickness. The benefit of having a 3-in-1 is the ease of switching between the MIG, stick and TIG weld processes. The Forney 190 MP is also spool gun capable for aluminum welding. Hyde also enjoys the adjustability, long power cord and lead he gets with the Forney 190 MP. He says, "it runs very smooth, leaving a cleaner weld line with no burn through."
With the use of Forney's new 190MP, Hyde's creations convert a simple backyard into a unique outdoor oasis. From planters, water features, sculptures, furniture and art, the comforts and aesthetics of being inside can now be relocated outside. According to Hyde, "outdoor art is the cherry on the top. It's what makes your landscape and outdoor room pop."
Founded in 1932, Forney Industries is one of America's oldest family-owned welding and metal-working-product companies. Today, the company offers nearly 6,000 products serving the automotive, hardware, farm & ranch and do-it-yourself markets. Forney Industries offers a new line up of welders that include two multi-processors and four MIG machines. Other protective equipment Hyde uses is the Forney Anarchy helmet and ForneyHide signature welding gloves. For more information, contact Forney Industries on line at http://www.forneyind.com and Amazon.com. Forney products are also available through their national sales team.