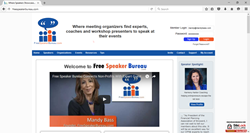 "It's a win-win." says founder, Mandy Bass, "Nonprofits improve meeting attendance by having interesting guest speakers. Our experts in turn build their local following."
Melbourne, FL (PRWEB) March 16, 2016
FreeSpeakerBureau.com, a new online virtual speaker's bureau, is making it easy for meeting planners of budget-strapped nonprofits to book guest speakers for their group meetings using an internet dating business model. .
Unlike most speaker bureaus, this one caters to organizations who don't have a budget for paying presenters. With this unprecedented approach, organizations find experts who in turn benefit by elevating their expert status in their local market and community. Some are aspiring professional speakers refining their Keynote Signature Talks.
A disruptive model in the public speaking industry, FreeSpeakerBureau.com provides a platform for experts, consultants, coaches, authors, business owners, entrepreneurs, and accomplished professionals of all types, at the top of their field, who are willing to provide guest speaking services for free to targeted local groups.. The site uses an Internet dating business model to find experts who do public speaking with "PerfectMatch" audiences.
In addition to providing engaging free programs to professional, civic, association, and non-profit groups, Professional FreeSpeakerBureau guest speakers are trained to drive attendance and improve membership engagement.
"It's a win-win." says founder, Mandy Bass, who built her own business consulting practice using guest speaking opportunities as her primary public relations platform. "We have recently added a verification process and a number of training programs to ensure that our recommended guest speakers are knowledgeable on their topic, present well, and deliver a high-level presentation to their audiences."
On the new FreeSpeakerBureau.com platform, groups wanting guest speakers for their meetings can post up to a year's worth of meetings on the "Guest Speakers Wanted Event Calendar." Based on the audience demographics, and desired program topics, their meeting will be matched using Internet-dating type technology to one or more "PerfectMatch" Experts who will then contact the meeting organizer directly.
Ethics guidelines for FreeSpeakerBurau.com members discourage speakers from giving a "hard sell" for their services or premiums. Meeting Planner are encouraged to review speakers and these ratings are visible to the public.
Speakers listed on the site include internet marketing experts, legal professionals, medical specialists, business consultants, political analysts, personal and professional coaches, authors, wellness gurus, financial planners, parenting coaches, hypnotists and even magicians, comedians and entertainers.
"It's a challenge for meeting planners to find and book local guest speakers every month, or sometimes every week," says Bass. "FreeSpeakerBureau.com gives meeting organizers access to a wide variety of experts who are eager to provide fresh and fun presentations on interesting and timely topics."
Use of the FreeSpeakerBureau.com website is 100% free for meeting planners. "And, of course, one of the best features of an Internet platform is that both meeting planners and speakers can access it 24/7, which adds both ease and convenience to the booking process," Bass adds.