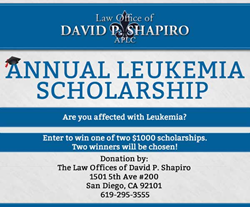 San Diego, California (PRWEB) March 03, 2016
The Law Office of David P. Shapiro, a San Diego criminal defense firm, and founder David P. Shapiro, Esq., have established a scholarship program for the benefit of those who have been diagnosed with leukemia. Two scholarships, each in the amount of $1,000, will be awarded each year, and the funds will help to defray the cost of tuition at the college, junior college, secondary or trade school chosen by the successful applicants. It is not required that applicants be currently enrolled in school in order to apply.
Those who suffer from leukemia are often confronted with financial and other challenges that can adversely affect their ability to continue to pursue their schooling. The scholarship program is intended to provide assistance to promote education. Through tuition assistance, it is hoped that the successful applicants will be better able to attain their educational goals.
Anyone interested in applying for the scholarships should visit the firm's website, which contains the complete details of the program and the application process. Applicants should note that the deadline for submission of applications for this year's scholarships is November 9, 2016.
All inquiries and questions concerning the scholarship program should be directed, via email, to:
The Law Office of David P. Shapiro
1501 5th Ave #200
San Diego, CA 92101
619-295-3555
michael(at)davidpshapirolaw.com