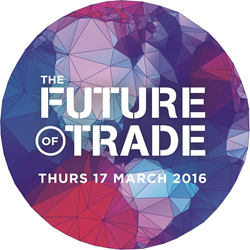 "Market participants will not want to miss the in-depth debate on the Future of Trade webcast to discover the power and influence that drives $40 trillion of global trade a year, and how it will change in the next decade."
Dubai (PRWEB) March 01, 2016
DMCC, the authority on trade, enterprise and commodities, has opened registration for the live webcast launch of 'The Future of Trade', a unique report into the future of global trade.
The Future of Trade webcast will broadcast simultaneously from London and Dubai on Thursday, 17 March 2016, at 12.30 GMT.
The webcast will feature a panel of experts moderated by Ian King, host of 'Ian King Live', the Sky News flagship evening business programme. The experts include: DMCC Chief Executive Officer Gautam Sashittal; HSBC Chief Economist Simon Williams; YouGov UK Chief Executive Alex McIntosh; former Wall Street Journal Europe Editor and Non-Executive Director of Fiat Chrysler Baroness Wheatcroft; and founder of the Ethiopian Commodities Exchange Dr Eleni Gabre-Mahdin.
"In the Future of Trade report, to be unveiled on March 17, 2016, we have explored key areas impacting global trade," Mr Sashittal said. "Market participants will not want to miss The Future of Trade webcast to discover the power and influence that drives $40 trillion of global trade a year, and how it will change in the next decade."
Building on research conducted over the last 12 months, The Future of Trade brings together the collective thinking of 150 global industry leaders, academics and experts across five continents.
The Future of Trade highlights the emerging impact of digital transformation for importers and exporters, along with the ongoing shifts in global economic power and burgeoning improvements in system efficiency.
DMCC Partners in The Future of Trade include: Google Campus London, The Centre for Economics and Business Research, NYU Abu Dhabi, AstroLabs, Oxford Business Group, SP Jain School of Global Management and CPI Media Group.
To register for the webcast and live events, please visit http://www.futureoftrade.ae.
For more on twitter: @DMCCAuthority #futureoftrade.