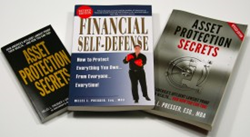 For every 60 minutes you spend making money, spend 60 seconds thinking about how to protect it!
Boca Raton, Florida (PRWEB) February 25, 2016
Hillel L. Presser, Esq., MBA of The Presser Law Firm, P.A., Asset Protection Attorneys, offers tips on planning for the disposition of your digital assets. Many of your online accounts – from automatic bill payments to eBay – may remain active after you pass away, unless you take steps to ensure that they don't. Automatic bill pay, for example, can theoretically keep tapping your bank account long after you're gone or, at least, until your money is gone. Banking and shopping accounts will be vulnerable to identity theft, which would affect your estate if someone opens credit cards in your name. You might have valuable intellectual property, like domain names. They may need access to your health records, particularly if you died under questionable circumstances. Then, there's the sentimental stuff—photos and emails—that your family may want as a remembrance of you, and the libraries of music and e-books, which may represent a considerable investment on your part.
1. Estate Planning Defined
We can define estate planning as the managing and passing of your assets through the preparation of documents and re-titling of assets. The process of linking asset protection with estate planning is called integrated estate planning and they work together to form a comprehensive plan. Having one without the other is incomplete. Every person should have an estate plan so that they can control who receives their assets at death. In addition, the estate plan covers an individual should he or she become incapacitated.
2. Basic Estate Planning Everyone Should Have
Basic estate planning consists of a health care directive (or health care surrogate document), living will, HIPAA, durable power of attorney, last will and testament and sometimes a revocable living trust. Your incapacity planning documents are the health care directive (for health-related decisions), living will (designation of which life prolonging measures can be undertaken) and a durable power of attorney (for financial-related decisions). The last will and testament can either be a long will, which details how assets are disposed of inside the document, or a pour over will, which pours the assets into a revocable living trust upon a person's death. The main difference between the two is that one requires probate and the other may avoid probate.
3. How Usual and Unusual Assets which can be Disposed of in Estate Planning
Your usual assets are your home, car, bank account, retirement account, pension, etc. As far as unusual assets, in most circumstances your common house pet would be safe from collections, but did you know that anything that's convertible into money is an asset, available to satisfy a creditor judgment? Thus, if your dog (or any other pet/farm animal) was worth enough money on the resale market and you didn't have any other assets to cover a judgment – they could be declared as an asset, repossessed and sold in satisfaction of your judgment. That sounds crazy but animals aren't the only type of property that most people don't consider as assets. For example, Intellectual Property is one very important group of assets that should never be overlooked when lawsuit-proofing your finances. Further, digital assets such as social media, online bank accounts and shopping accounts should be accounted for in your planning.
4. Tips to Plan for the Disposition of Digital Assets
As far as your digital assets, you should first create a list of all of your accounts, including log-in names, passwords, and answers to any security questions. Remember, you should not put password information in your will, because it's a public document. Obviously, your list will need to be securely stored, since you'll need to update it regularly as you add accounts or change passwords. It will be easiest if you keep the list on your computer in a password-protected folder. Some versions of Windows allows you to create protected folders, but you may need to obtain third-party software to do this. Remember to create a backup of your list, whether it's on a jump drive or printed out on paper. Store the backup in a secure place such as a safety deposit box. The digital world has grown and transformed so rapidly, that laws haven't kept up. This makes managing your digital afterlife challenging.
5. Initiate the Inactive Account Manager
In May of 2013, Google became the first site to give users an option for choosing what happens to their content if they should become debilitated or die. Under the profile button of your Google account, click "Account," scroll down to "Account Management", and you'll find instructions for "Control what happens to your account when you stop using Google". You can select how long the account should be inactive before your plans are set into motion; choose to whom you want to offer content to, such as YouTube videos, Gmail, Google+ posts, Blogger and Picasa web albums, or whether it should simply be deleted.
6. Appoint a Digital Executor
Perhaps the simplest way to ensure your online life is taken care of is to appoint a digital executor– a tech-savvy person who will be willing and able to carry out your wishes. Authorize that person to access your inventory of log-in information and spell out what you want done with each account, whether it's providing access to loved ones or business partners, or deleting it altogether.
The Presser Law Firm P.A., Asset Protection Attorneys, represents individuals and businesses in connection with the establishment of comprehensive Asset Protection plans that incorporate both domestic and international components.
Visit the Law Firm's Visit the Law Firm's website (http://www.AssetProtectionAttorneys.com) for access to educational material on asset protection, business law, estate planning, and probate including webinars, articles and detailed legal explanations.
Contact The Presser Law Firm, P.A., Asset Protection Attorneys for a Complimentary Preliminary Consultation with one of our attorneys or to receive complimentary copies of our latest best-selling books on Asset Protection.
"For every 60 minutes you spend making money, spend 60 seconds thinking about how to protect it!" states attorney Hillel L. Presser, Esq., MBA regarding the importance of protecting your assets proactively.