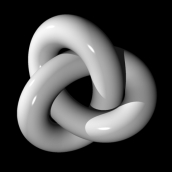 Park AFM imaging is important in the direct visualization of supramolecular polymers when they are adsorbed on surfaces in which the direct catenation or knotted structures can be made visible because it is a direct characterization.
Santa Clara CA (PRWEB) February 29, 2016
Park Systems, world leader in atomic force microscopy (AFM) is offering a nanotechnology webinar titled Knotty Polymers and Supramolecular Chemistry on March 2, 2016. This webinar will focus on the use of supramolecular chemistry to define a new class of polymer materials accessible with designed templates. It will be given by Prof. Advincula from Case Western University who has extensive expertise in the design, synthesis and characterization of new polymers and nanoscale materials, including two grants from the National Science Foundation for research on Knotty Polymers via Supramolecularly Templated Living Free-Radical Polymerization Iniferters.
To register go to: http://www.parkafm.com/webinar_2mar2016
Supramolecular chemistry is about interactions between molecules: how they recognize each other, assemble and function on a molecular scale. It provides a bottom-up approach to nanoscale systems with applications ranging from biology to materials science. Design and preparation of supramolecular polymers is a topic at the forefront of contemporary chemistry including cyclic and catenated polymers which are smaller in their hydrodynamic volume and are of lower viscosity in solution. They are useful in model polymers to control entanglement behavior.
"Park Systems Atomic Force Microscopes (AFM) are an essential tool for the characterization of polymer materials and structures in both bulk structures and nano-objects such as supramolecular polymers because the dimension, surface interaction, topology, and aggregation phenomena is accurately imaged with Park's patented non-contact mode," states Dr. Advincula. "AFM imaging is important in the direct visualization of supramolecularpolymers when they are adsorbed on surfaces in which the direct catenation or knotted structures can be made visible because it is a direct characterization as opposed to the use of light scattering and spectroscopic methods."
Supramolecular chemistry is the chemistry of the intermolecular bond, covering the structures and functions of the entities formed by association of two or more chemical species. Supramolecular chemistry may be defined as "chemistry beyond the molecule", bearing on the organized entities of higher complexity that result from the association of two or more chemical species held together by intermolecular forces.
"In material science, suprarmolecularchemistry is used to order controlled properties or dimensions through complexation or order of molecular arrangements that leads to an order or the formation of a nano-object, both organic and inorganic. Topology or the formation of ordered entanglements or catenation is of high interest because it can also be mathematically predicted," adds Dr. Advincula.
Jean-Marie Lehn who received the Nobel Prize in Chemistry with two associates in 1987 fortheir "development and use of molecules with structure-specific interactions of high selectivity" says that introducing the concepts and results of supramolecular chemistry into materials science, led to the emergence and the development ofsupramolecular polymer chemistry, as a new area in polymer chemistry.He further adds,"It is clear that much basic chemistry remains to be done on the design and realization of numerous other systems and processes that wait to be imagined."
"In Celtic and Gothic art, there is fascination for structures and cycles including knots that are beautifully patterned and reveal the fascination of man on cyclic patterns and topology. In fact in mathematics, this is governed by Knot Theory. This theory enables one to predict their entanglement based on the overlap or crossover in a 1-ring system. The degree of catenation and links are also important," adds Dr. Advincula.
While the appreciation of Celtic art, Gothic art, and other forms of knotted designs and architectures are widespread, perhaps it is because it also suggests knowledge about the building blocks of life. It has been show thatthe DNA of various bacteria can become "knotted," so in this case, the complexity of the knots becomes highly relevant. In order to replicate, the DNA must "unknot" itself. Specific enzymes, known as topoisomerases, perform the act of "cutting" the string (or circular stand of DNA) and passing it through itself, to accomplish the unknotting.
The results obtained may also be analyzed in the view of developing components for molecular devices that would perform highly selective functions of recognition, transformation, transfer, regulation and communication, and allow signal and information processing. Many possible advantages of these materials in controlling phase behavior, crystallinity, and thermomechanical properties of polymers rest on an effective synthesis method to produce them in high yield.
"Park NanoAcademy is proud to offer this exciting series of webinars on supramolecular chemistry which is rapidly advancing nanoscientific field of study where scientists can study how to synthesize polymers with their backbones twisted into precisely-defined knots, creating new materials," comments Keibock Lee, President Park Systems. "These polymer chains are the fundamental units of plastic materials, and further knowledge about their properties could lead to new applications in adhesives, structural materials, and automotive and aerospace composites and even help us better understand our universe."
Quantum entanglements and supramolecular chemistry represent a new chapter in physics. Long-range quantum entanglements can as we continue to examine them at the nanoscopic level, provide access to new information about the origin of light and electrons leading to a whole new point of view of our world. This webinar is part of an ongoing series offered by Park Systems' Nano Academy, a platform for providing education and shared knowledge on this and many other nanotechnology advancements.
To register for this webinar, go to:http://www.parkafm.com/webinar_2mar2016
About Park Systems
Park Systems is a world-leading manufacturer of atomic force microscopy (AFM) systems with a complete range of products for researchers and industry engineers in chemistry, materials, physics, life sciences, semiconductor and data storage industries. Park's products are used by over a thousand of institutions and corporations worldwide. Park's AFM provides highest data accuracy at nanoscale resolution, superior productivity, and lowest operating cost thanks to its unique technology and innovative engineering. Park Systems, Inc. is headquartered in Santa Clara, California with its global manufacturing, and R&D headquarters in Korea. Park's products are sold and supported worldwide with regional headquarters in the US, Korea, Japan, and Singapore, and distribution partners throughout Europe, Asia, and America. Please visit http://www.parkafm.com or call 408-986-1110 for more information.
About Prof. Rigoberto Advincula
Prof. Rigoberto Advincula, Director of the Petro Case Consortium, is recognized industry-wide as an expert regarding polymer and materials challenges of the oil-gas industry. He is currently a Professor with the Department of Macromolecular Science and Engineering at Case Western Reserve University and is the recipient of numerous awards including Fellow of the American Chemical Society, Herman Mark Scholar Award of the Polymer Division, and Humboldt Fellow.