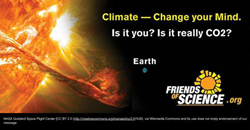 People are fed up with being misled and emotionally manipulated on climate change
Calgary, Alberta, Canada (PRWEB) February 25, 2016
A recent study called "The distribution of climate change public opinion in Canada" published Feb. 15, 2016 on the Social Science Research Network is causing a stir in Canada as it shows that "only 44% of Canadians think climate change is 'mostly' caused by human activities," says Friends of Science Society quoting the report. This closely parallels findings of a 2012 peer-reviewed study of 1,077 Canadian scientists and engineers of whom only 36% believed humans were causing a climate crisis as reported in Forbes, Feb. 13, 2013.
"Canadians live in climate extremes and see natural climate change all around them," says Michelle Stirling Communications Manager for Friends of Science Society. "Energy economist Robert Lyman, did the math and shows that trying to meet climate targets will destroy Canada's economy."
(LINK: friendsofscience.org/assets/documents/climate_change_implications_Lyman.pdf)
Friends of Science says climate catastrophe hype must end. On CBC, Dec. 14, 2015 on the program "Power and Politics" (LINK: cbc.ca/player/play/2680438574) Canadian Environment Minister, the Hon. Catherine McKenna made a plea to save the Marshall Islands from drowning due to greenhouse gas-induced climate change. Friends of Science Society research revealed that marine emissions are not part of the Paris Agreement and the Marshall Islands are home to the third largest fleet of ocean vessels in the world. According to a report in the Daily Mail of Nov. 21, 2009, just 16 of such ships put out the equivalent pollution of all the cars in the world, meaning the Marshall Island threat of destruction is self-inflicted. LINK: dailymail.co.uk/sciencetech/article-1229857/How-16-ships-create-pollution-cars-world.html
"People are fed up with being misled and emotionally manipulated like this on climate change," says Stirling. "Our nation is marked with visible signs of extreme natural climate change."
She refers to the UNESCO World Heritage Sites of Burgess Shale in British Columbia where ocean fossils are found on mountaintops, the Royal Tyrrell Museum in the dinosaur badlands of Drumheller, Alberta and Head-Smashed-In Buffalo Jump just south of Calgary. On Ellesmere Island in the high Arctic, giant camel fossils were found, as reported in The Guardian, March 5, 2013. These are evidence of vast natural climate change. LINK: theguardian.com/science/2013/mar/05/fossilised-giant-camel-bone-found
Regarding catastrophic climate-related events referred to in the Yale study, Stirling points out that eight of the worst floods in Calgary's history occurred before 1933 with two of those having more significant water flows than the 2013 flood as reported by The Weather Network, June 25, 2013.
"Reasonable Canadians will think twice about any climate policy that will cost them money," says Stirling. "Trillions of dollars were spent world-wide on carbon reduction to no avail. Satellite data shows that global warming paused naturally over 18 years ago despite a rise in carbon dioxide."
About
Friends of Science Society has spent over a decade reviewing a broad spectrum of literature on climate change and hold the position that the sun is the main driver of climate change, not carbon dioxide (CO2). Friends of Science is made up of a growing group of earth, atmospheric and solar scientists, engineers, and citizens.
Friends of Science Society
P.O. Box 23167, Mission P.O.
Calgary, Alberta
Canada T2S 3B1
Toll-free Telephone: 1-888-789-9597
Web: friendsofscience.org
E-mail: contact(at)friendsofscience(dot)org