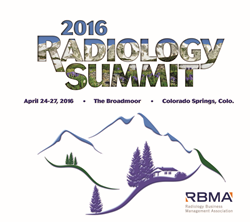 The Radiology Summit is bringing together an exceptional group of speakers.
Fairfax, VA (PRWEB) February 29, 2016
The Radiology Business Management Association (RBMA) annual spring Radiology Summit returns to one of its most popular meeting sites – the Broadmoor, a five-star hotel set against the dramatic southern Rockies in Colorado Springs, Colorado – from April 24-27 with an exceptional lineup of speakers and its first Radiology Summit Innovation Learning Lab.
"The Innovation Learning Lab is a concept that came out of the RBMA's motto of progress through sharing," says Kimberly Mydland, RBMA Director of Education and Meetings. "During the Innovation Lab session, RBMA members whose innovate projects have been accepted for presentation will each give a short 8-minute talk about their idea and be available for questions. I'm confident every attendee will walk away with at least one and possibly several real-world-tested smart ideas to consider for their business."
The Innovation Learning Lab takes place on Tuesday, April 26. RBMA members with great ideas to share are invited to submit a one- to two-page Word document or short (five slides or less) PowerPoint deck explaining their innovation by March 18. Those selected to present will be notified by March 31.
The Radiology Summit is also bringing together an exceptional group of speakers. Among the highlights for 2016:

John J. Nance, JD, an air force veteran, nationally known aviation analyst, author and advocate for safety improvements will present the conference keynote, "A Radiant Future: The Ultimate Flight Plan to Patient Safety and Quality Care."
Alexander Norbash, MD, MS, FACR, chairman and professor of Radiology at Boston University Medical Center will present a general session: "Leadership Science, Examples and Lessons Learned."
Seena Sharp, principal of one of America's first competitive intelligence firms and author of Competitive Intelligence Advantage: How to Minimize Risk, Avoid Surprises, and Grow Your Business in a Changing World, will lead a two-hour workshop on finding growth opportunities through six new techniques that beat predicting or forecasting.
In addition, the Radiology Summit will offer more than a dozen other high-level presenters and a full exhibit hall with more than 70 companies showcasing industry products and services. RBMA sponsors are among the companies exhibiting at the Radiology Summit, and it is through their support that the RBMA is able to offer the quality educational experience its members expect.
For more information on the 48th Annual RBMA Summit visit http://www.rbma.org/rs/. The attendee registration link is http://www.rbma.org/Radiology_Summit_Schedule/ and the exhibitor registration link is http://www.rbma.org/Exhibiting_Radiology_Summit/. Those wishing to be considered as featured presenters in the Innovation Learning Lab should submit their idea following the guidelines at http://www.rbma.org/rs_innovation/.
About the RBMA
The Radiology Business Management Association (RBMA) is a national not-for-profit association providing members with applied business information and intelligence applicable in any radiology setting. The RBMA has approximately 2,300 members involved in various management capacities in private practices, academic radiology groups, imaging centers and hospitals. The RBMA continues to be recognized as the leader for radiology-specific educational programs, products and services, publications and data.