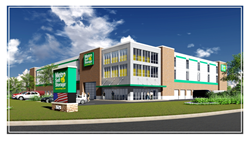 Lake Forest, Illinois (PRWEB) February 25, 2016
Metro Storage LLC recently announced the purchase of a parcel of land in St. Charles, Illinois to build a new self storage facility, the company's 19th in the Chicago area. Located at 2623 Lincoln Highway in the Chicago suburb of St. Charles, the new state of the art facility will be a three-story, 101,232 GSF state-of-the-art, 100% climate controlled self-storage facility offering approximately 72,450 RSF of storage.
"This is another great opportunity to expand and leverage the Metro brand in the Chicagoland market." said Matthew Nagel, Chairman of Metro Storage LLC.
"The new store will have great visibility along a major east-west thoroughfare, and is located in a strong demographic market close to residential areas and major retailers." said Blair Nagel, CEO of Metro Storage LLC.
Features of the new store include: 100% climate controlled storage, large double bay covered loading/unloading areas, state of the art security, and a large, modern retail office area. The store is scheduled to open in November 2016.
About Metro Storage LLC
Metro Storage LLC is a privately owned, fully integrated, international self-storage operating company specializing in the development, construction, acquisition, and management of self-storage facilities in the USA and Brazil. Metro operates under the trademark Metro Self Storage in the US, being one of the top 10 largest owner/operators of self-storage facilities in the United States with over 100 stores covering 12 states. Metro operates in Brazil under the trade name MetroFit which is one of the fastest growing self-storage companies in Brazil. More information about the firm is available at http://www.metrostoragecorporate.com.