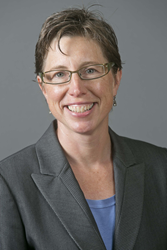 "I am humbled by the Trustees' confidence and look forward to working with them, my colleagues on the faculty, and Mills' staff, alumnae, and students to imagine and build the College's future."
Oakland, CA (PRWEB) March 02, 2016
The Board of Trustees of Mills College (Oakland, CA), the oldest women's college in the West, has selected Elizabeth L. Hillman as the 14th president in the College's 164-year history. Hillman was chosen from a large and varied pool of exceptional candidates in a comprehensive national search. She will assume leadership on July 1, 2016 and succeeds Alecia A. DeCoudreaux.
Currently serving as provost and academic dean and professor of law at the University of California, Hastings College of the Law, Hillman brings substantial expertise in faculty development, governance, curricular reform, strategic planning, enrollment management, and budgeting to the office of Mills College President. She has earned university degrees spanning the arts and sciences, engineering, and law.
A staunch proponent for women's education and the liberal arts, Hillman has a distinguished academic and professional background that the Board of Trustees felt provides her with a strong foundation for the role of Mills president.
"We are extremely pleased to announce Beth Hillman as the 14th president of Mills College," said Kathleen J. Burke, chair of the Mills Board of Trustees. "In addition to her passion for women's education and justice, and her global perspective, she possesses the skills, vision, collegiality, and energy required to lead and inspire our diverse community.
"Beth's scholarly background illustrates the breadth of her educational commitment and intellectual inquiry," Burke noted. "She has a keen understanding of the administrative challenges and opportunities in higher education and, as a professor, the joys and rewards of engaging and teaching students."
Longstanding Leadership Experience
Prior to her position at UC Hastings, Hillman served as professor of law and director of faculty development at Rutgers University School of Law, and taught at Yale University and the U.S. Air Force Academy. She also has served as an officer in the U.S. Air Force. She has received numerous awards for teaching, scholarly excellence, and service.
Hillman's work on military gender issues has brought her national and international recognition. Her scholarship has focused largely on United States military law and history since the mid-20th century and the impact of gender and sexual norms on military culture. Appointed by the ranking member of the U.S. House of Representatives Armed Services Committee to serve on the Response Systems Adult Sexual Assault Crimes Panel, she chaired a committee organized by the U.S. Department of Defense to review and recommend ways the military could improve the investigation, prosecution, and adjudication of crimes related to sexual assault.
Hillman has authored books, book chapters, and journal articles, and was the principal researcher and author of a comparative study of national military responses to sexual assault commissioned by the United Nations Office of the High Commissioner for Human Rights. She also serves on the board of directors and is past president of the National Institute on Military Justice. Hillman is a strong advocate for social and legal reform; she played a key role in ending the "don't ask/don't tell" policy of discriminating against gay men and lesbians in the U.S. armed forces in addition to advising on other issues such as eliminating the bans on women in combat and transgender service members.
Katie Sanborn, chair of the Presidential Search Committee, stated "Beth was a clear choice to serve as our next president. She is committed to women-centered education, and is a compelling, thoughtful leader. Throughout her career she has built a reputation for developing diverse coalitions and communities. Her experience in the military and subsequent work on military equity has honed her deep sense of social justice, especially regarding women and gender."
"It's an incredible honor to be chosen as the next president of Mills," said Hillman. "I am humbled by the Trustees' confidence and look forward to working with them, my colleagues on the faculty, and Mills' staff, alumnae, and students to imagine and build the College's future. I want to throw a spotlight on the academic excellence and professional success of those whose lives were changed by their experience at Mills. I've been so impressed by Mills' success in cultivating creativity, leadership, and social responsibility in its diverse students. I feel especially fortunate to be joining Mills at a time when the global, and local, demand for education throughout women's lives shows no signs of abating."
Personal History
Born and raised in Pittsburgh, Pennsylvania, Hillman received a Bachelor of Science degree in electrical engineering from Duke University, a Master's degree in history from the University of Pennsylvania, a law degree from Yale Law School, and a PhD in history with a focus on women's history from Yale University. She plans to live with her wife and their five school-age children on the Mills College campus.
"I'm looking forward to leading an institution that so closely aligns with my own desire to advance the status of women in our society and culture," said Hillman. "Mills' history of remaking itself to meet the changing demands for both liberal arts and women's education bodes well for its ability to sustain the excellence and innovation that marks its past. The need for colleges like Mills to flourish is as important now as ever, and I welcome the opportunity to guide the College through these challenging times."
Hillman Succeeds DeCoudreaux
Hillman will succeed current Mills President Alecia A. DeCoudreaux, who came to the College in 2011. Under DeCoudreaux's leadership, the College crafted a strategic plan calling for a reimagining of curriculum for the 21st century student. She implemented best financial practices, while strengthening the College's reputation as a strong liberal arts institution committed to providing a high-quality academic experience for an increasingly diverse student body.
DeCoudreaux expanded the school's global focus, initiating participation in the Women in Public Service project created by the U.S. Department of State; built a strong relationship with alumnae, community partners, and donors; and instituted the first women's college policy for admitting transgender students. She also led strategic efforts as the board and the campus community grappled with the tough challenges facing all of higher education, always taking into account the best avenues to shape the future of Mills. Notably, she inspired students on a personal level with her grace, humor, and enthusiasm for what they could achieve during their academic career and throughout their lives.
During her tenure, DeCoudreaux became the recipient of several prestigious awards, including the CEDAW Award for Education, the ABC News Profiles of Excellence Award, and the Madam C.J. Walker Pioneer Award, and was recognized as a Leadership California Trailblazer. In addition she was selected as one of the San Francisco Business Times' Most Influential Women in Business and featured in Diverse Issues in Higher Education Magazine's "30 Women Making a Difference."
"Beth's academic and professional experience will serve her well in the role of Mills President," said DeCoudreaux. "Her extensive work on key women's issues shows her deep commitment to the concerns important to everyone at Mills. When I think of the reasons that people choose to come to this college, it's clear that Beth is extremely well suited to support those goals and ambitions. She greatly appreciates the importance and value of a women-centered education, and has the leadership skills to guide Mills at this pivotal time for women's and liberal arts colleges."
"We are grateful for the leadership, vision, and service President DeCoudreaux has provided to Mills College," said Burke. "We have remained a strong, relevant institution and have moved forward on many fronts during her tenure. We know that Beth will continue to build upon the work already accomplished under President DeCoudreaux's stewardship."
About the Selection Process
A 15-person Presidential Search Committee was formed in July 2015 to launch a comprehensive national search under the leadership of Katie Sanborn, chair of the committee. The committee included representation from Mills Trustees, faculty, students, staff, and alumnae.
Media Please Note
Interview opportunity: Elizabeth L. Hillman is available for brief interviews on Wednesday, March 2, from 9:00 am—10:00 am. To schedule an interview, please contact Jeanne Herrera at 510.430.2320.
Detailed background and biographical information on Elizabeth L. Hillman, as well as a high-resolution photo and video, are available at: http://www.mills.edu/newpresident/
About Mills College
Located in Oakland, California, in the heart of the San Francisco Bay Area, Mills College is a nationally renowned independent liberal arts college for women with graduate programs for women and men. Ranked one of the top-tier regional universities in the West by U.S. News & World Report, Mills is also recognized as one of The Best 380 Colleges in the nation by The Princeton Review. Since 1852, we've been empowering students to become creative, independent thinkers who take and inspire action. For more information, visit http://www.mills.edu.