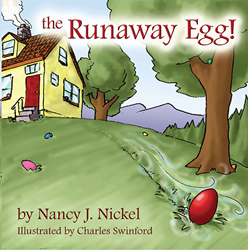 Lynchburg, Va. (PRWEB) February 26, 2016
A new children's book from Liberty Mountain Publishing invites readers to experience the Gospel message of God's love in a simple and beautiful way.
Out just in time for Easter, "The Runaway Egg" by Nancy Nickel follows the adventures of a special egg that escapes from an Easter egg hunt and travels down a river and across town, meeting people and animals along the way. Through unpredictable circumstances, the egg begins an incredible journey and, eventually, reveals a surprise hidden deep inside it.
This story shows children that while things do not always go as planned, God is always in control.
"Everything is all about God, and whether I'm 2 or 80 I need to choose to live each day trusting in my God and resting in his ways," Nickel said. "We really don't need to be scholars to understand deep truths of the Bible … it's God's love story. It's all about the Creator who didn't give up on His creation — you and me."
"The Runaway Egg" is available on Amazon and Barnes & Noble.
Liberty Mountain Publishing, an imprint of Liberty University Press, focuses on Christian-living publications, such as novels, inspirational books, and children's books. Visit Liberty Mountain Publishing online for more news and information.
About the Author
Nancy Nickel has been a freelance writer since 2005. She is the author of children's Bible lessons, has been a children's Bible study leader, and has served as a part-time teacher. As the mother of three grown children, Nancy Nickel loves sharing the Good News of Jesus Christ in creative and engaging ways.
About the Illustrator
Charles Swinford lives in Richmond, Virginia, with his wife Tara, their son James T., and a small herd of cats. He has been an artist for as long as he can remember.
About Liberty University
Liberty University, founded in 1971, is the largest private, nonprofit university in the nation, the largest university in Virginia, and the largest Christian university in the world. Located near the Blue Ridge Mountains on more than 7,000 acres in Lynchburg, Va., Liberty offers more than 500 unique programs of study from the certificate to the doctoral level. More than 200 programs are offered online. Liberty's mission is to train Champions for Christ with the values, knowledge, and skills essential for impacting tomorrow's world.