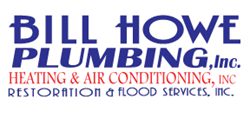 Our team exemplifies the high standards set in place by Bill and Tina Howe, and they are the best in San Diego.
San Diego, CA (PRWEB) February 25, 2016
The Bill Howe Family of Companies began in 1980 as a single truck plumbing company in San Diego. Although plumbing was where they started, for over 35 years, they have grown into a multi-division and multi-award winning company offering expert services in plumbing, epoxy relining, heating & air conditioning, and restoration and reconstruction. Part of their recipe for success is in their hiring and retention of quality employees.
Bill Howe Plumbing built their mission to create a company of healthy, happy employees, offer them a successful career, deliver quality and affordable services for San Diego residents, and give back to their community through volunteerism, financial contributions and pro-bono work helping those in need.
"Our monthly award recognition for outstanding employees is something we have been doing since the beginning," said Tina Howe, Vice President of the Bill Howe Family of Companies. "However, in 2015, we redesigned the awards in order to offer another level in recognizing our team. They are the heart of Bill Howe and our mission is to help them to excel creating the very best team in San Diego."
The company supports employee education through the local Plumbing-Heating-Cooling-Contractor's association San Diego plumbing and heating programs, as well as extensive on-the-job training, providing ample recognition, wellness opportunities, and much more. In 2015, the new awards were modeled to promote work excellence, improved customer service, reputation management, and upholding the Bill Howe standards. There are four categories that every employee is eligible for: Above & Beyond, for employees who take that extra step to help customers, the company and their colleagues, Excellence, presented to the employee (or employees) who demonstrates quality craftsmanship, Leading by Example, for the employee who represents the high standards of Bill Howe, and Customer Service, for the employee who delivers exceptional customer care.
Employees can nominate themselves, each other, and are chosen by a team of managers with input from each division. "Each month, it becomes harder to choose just one winner in each award category, "said Amber Baynard, Human Resource Manager. "Our team exemplifies the high standards set in place by Bill and Tina Howe, and they are the best in San Diego." Plumbing technicians, heating & air specialists, restoration and reconstruction teams, as well as office staff are all eligible each month.
The winners are announced at the monthly shop meeting for the previous month, presented with a certificate of excellence, a monetary bonus and their picture is hung on the employee "wall of fame."
Our January Award Winners were recognized at the February company meeting and are: Corey Koenen for Above & Beyond (A&B), Shelby Bruce for Customer Service (CS), Tyler Cervantes for Excellence (E), and Jesus Sanchez for Leading by Example (LBE).
For more information about the monthly awards, or the Bill Howe Family of Companies services in San Diego, visit http://www.billhowe.com, or to speak with Bill or Tina Howe regarding this announcement, contact Bill Howe Marketing Director, Julie Riddle at Julie(at)billhowe(dot)com.
About Bill Howe Family of Companies
Bill Howe Family of Companies is comprised of Bill Howe Plumbing, Inc.; Bill Howe Heating & Air Conditioning, Inc.; Bill Howe Restoration & Flood Services, Inc. The family-owned and operated company began in 1980 with the plumbing division and has grown into San Diego County's largest low-cost one-stop-shop for service, repairs and installation, offering both residential and commercial services. 9085 Aero Drive, Suite B, San Diego CA 92123. Call 1-800-BILL-HOWE because We Know Howe!
###