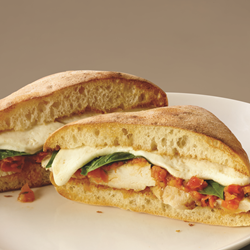 Boston, MA (PRWEB) February 25, 2016
As the Winter Season nears its end, Au Bon Pain, an internationally recognized leader in the fast-casual category, announces a refresh of its sandwich offerings and the release of its Early Spring Limited Time Only Menu, both incorporating fresh, flavorful ingredients that offer balance and innovation. Sandwich updates feature new ingredients and recipes that can be tasted in the all-new Oven-Hot Chicken Margherita Sandwich and the Tuna Salad on a new Whole Grain Wheat Bread. And for a limited time, guests can now enjoy seasonal items including a Smoky BBQ Chicken Salad, Blueberry Coffee Cake, Oatmeal Chocolate Chip Cookies and S'mores Lattes. New Early Spring Menu items will be available February 23, 2016 – April 25, 2016.
"With our new sandwich and seasonal menu items we've really emphasized what makes a great dish even better," said Katherine See, Au Bon Pain's executive chef. "From adding leaves of fresh basil to creating new whole grain, lower-sodium bread recipes, we have incorporated more fresh ingredients and paid additional attention to current flavor trends. At Au Bon Pain, we are committed to evolving our offerings to create a delicious yet healthier culinary experience for our guests, and I think we've succeeded with these new innovations."
As educated customers seek more nutritious recipes, Au Bon Pain has adapted its dishes to meet these needs. Nutritional improvements in the new menu include lower sodium recipes, more whole grains and fresh ingredients, and lower fat ingredients. These healthful adjustments can be seen in a variety of ways from fresh basil replacing pesto to whole grain wheat breads with less sodium.
A standout on the Sandwich Menu, Au Bon Pain's new Oven-Hot Chicken Margherita Sandwich is a twist on a classic favorite that combines fresh basil, tomato bruschetta, fresh mozzarella, and antibiotic-free chicken on ciabatta bread. The tomato bruschetta is a new premium topping that has been introduced with this menu launch. It is an ABP special recipe that combines slow-roasted tomatoes, chopped garlic, and heart-healthy olive oil, which pairs perfectly with the melted mozzarella and fresh basil.
Additionally, Au Bon Pain is also featuring a diverse lineup of seasonal blueberry offerings, both fresh and baked, including a Blueberry & Melon Fruit Cup and Fresh Blueberry Cup available in the Grab and Go section. On the bakery side, the fast casual bakery café has added a new Blueberry Coffee Cake and a Blueberry Scone.
"Baking fresh bread each day is a true labor of love that Au Bon Pain has embraced since we started 37 years ago, and we continue to offer handmade, distinctive artisan breads and croissants to our guests every time they visit," said Au Bon Pain's Chief Brand Officer Maria Feicht. "We are pleased to take another step forward in this endeavor with the introduction of new whole grain breads that are not only healthier but also delicious, elevating our sandwich offerings and adding another unique element to our menu overall."
New Sandwich Menu Highlights:
NEW Oven-Hot Chicken Margherita – chicken, fresh mozzarella, tomato bruschetta, and fresh basil on ciabatta
NEW Oven-Hot Ham & Two Cheese – ham, cheddar, swiss, tomatoes, arugula & dijonnaise on a baguette
NEW Oven-Hot Country Grilled Cheese – four-cheese blend, applewood-smoked bacon & tomatoes on country white
Tuna Salad Sandwich on NEW Whole Grain Wheat – tuna, celery & onions mixed with mayo, cucumbers, tomatoes & field greens on whole grain wheat
Turkey & Swiss on NEW Multigrain Baguette – antibiotic-free turkey, swiss, tomatoes & honey pecan spread on a multigrain baguette
Black Angus Roast Beef & Cheddar on NEW Multigrain Baguette – black angus roast beef, cheddar, pickled red onions, tomatoes, field greens & dijonnaise on a multigrain baguette
The Early Spring Limited Time Only Menu:
Smoky BBQ Chicken Salad - smoky bbq marinated chicken, romaine & field greens, roasted corn, tomatoes, roasted red & yellow peppers, three-cheddar blend, crispy onions & lite ranch dressing
Roasted Red Pepper & Gouda Soup - roasted red peppers and smoked gouda with a hint of cream & basil
Blueberry Coffee Cake - traditional blueberry coffee cake
Oatmeal Chocolate Chip Cookie - a chewy oatmeal cookie loaded with rich chocolate chips and rolled oats
Almond Biscotti - classic almond flavor of the traditional Italian cookie
S'mores Latte - espresso, toasted marshmallow syrup and chocolate sauce topped with frothed milk, whipped cream and cocoa powder available hot or iced. $1.99 for medium and $2.50 for large
Peruvian Reserve Blend Coffee - a dark, rich and well balanced roast with hints of dark chocolate
Blueberry & Melon Fruit Cup - blueberries, watermelon, honeydew melon, and cantaloupe available in medium and large
For more information on the new menu or to find an Au Bon Pain café location near you, visit: http://www.aubonpain.com.
About Au Bon Pain
Founded in 1978, Au Bon Pain ("the place of good bread") has grown into an internationally recognized leader in the fast-casual restaurant category. The chain's signature items—sandwiches, breads, pastries, salads, soups and coffee—are served in welcoming café environments emphasizing quick service and hospitality. Au Bon Pain offers consumers a wide array of delicious, nutritional foods that include low-sodium, low-fat, gluten-free, vegan, and vegetarian options. Calorie counts are clearly posted on menus and full nutritional information is provided in each café which has helped the brand earn Health magazine's designation as one of America's Top 5 Healthiest Restaurant Chains over the past three years and one of America's Healthiest Restaurant Chains by Grellin.
Au Bon Pain operates in six key trade channels including urban office buildings, hospitals, universities, transportation centers, malls and museums. Au Bon Pain currently operates in more than 300 locations in the U.S. and internationally. Additional information about Au Bon Pain, which is headquartered in Boston, may be found at http://www.aubonpain.com.