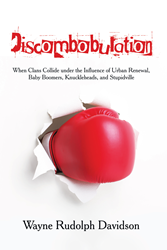 I want to share my story so that others, with a similar demographic path, can see that personal goals and desires can be achieved through one's ability to adapt to ever-changing social and economic environmental conditions
DETROIT (PRWEB) February 26, 2016
As an African-American male, Wayne Rudolph Davidson laments the fact that so many of his peers tell their story to a judge rather than in a business meeting.
Davidson could have found himself in similar shoes, but he beat the stereotypes and made a name for himself. Throughout his new book, "Discombobulation," Davidson discusses in depth how young men of color can do the same.
Growing up during the post World War II era in Detroit, Davidson experienced a time period filled with social change and civil disturbance. As a young, black male he struggled to keep a job and suffered from substance abuse. After working in the auto industry, he found himself unemployed and living in a rough neighborhood that he dubbed "Stupidville".
Davidson was able to escape his neighborhood and turn his life in a positive direction after enlisting in the U.S. Army. Following his service, Davidson earned multiple college degrees, including a Master of Business Administration and a Ph.D. in organizational leadership.
"I want to share my story so that others, with a similar demographic path, can see that personal goals and desires can be achieved through one's ability to adapt to ever-changing social and economic environmental conditions," Davidson said.
Reflecting back on his life, Davidson takes an in-depth glace at the triumphs and pitfalls that he experienced growing up. He also addresses multiple historical events that have impacted his life, as well as current social issues that plague African-Americans.
"People have the ability to change," Davidson said. "If not exercised then the chances of survival are greatly reduced."
"Discombobulation"
By Wayne Rudolph Davidson
ISBN: 978-1-4582-1912-1
Available in softcover, hardcover, e-book
Available on Amazon Barnes & Noble and Abbott Press
About the author
Wayne Rudolph Davidson is a former member of the U.S. Army. He holds multiple college degrees, including a Bachelor of Science in occupational education from Wayland Baptist University, a Master of Business Administration from Western International University, and a doctorate in organizational leadership from the University of Phoenix. Davidson is an avid Detroit Tigers fan and has sung the national anthem at a Tigers game. He lives in Michigan with his wife.
# # #
For review copies or interview requests, contact:
Brandon Kors
317.602.7137
bkors(at)bohlsengroup(dot)com