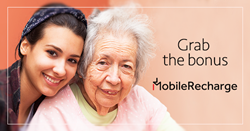 Super fast efficient easy to use. Reasonable rates, no complaints! Superb customer services. (Donna Green on Trustpilot.com)
Atlanta, Georgia (PRWEB) February 26, 2016
Expats worldwide have the chance to add up to 500% Bonus credit when they send mobile credit to mobiles in Honduras, Morocco, Liberia, Vanuatu, Samoa, Papua New Guinea and Nauru. The top up Bonuses help save money on international refills of mobiles, and apply until the end of February, and can be carried out online, in less than 1 minute: http://mobilerecharge.com/promotions
Most of those who already tried sending mobile credit online from abroad use the service on MobileRecharge.com to support their families and friends back home with calling credit, SMS and data. No contract is needed and the service is certified as 100% safe. The credit reaches the destination in real time, and the processing fee is the smallest on the global market.
Hondurans who live outside their mother country can send 200% more Tigo credit when they send a minimum of $10 to someone in Honduras who use a Tigo prepaid mobile.
Moroccans will automatically add 600% more credit on their top ups of mobiles in Morocco, subscribed to Maroc Telecom. Any international top up made before March 7, 2016, receives 600%.
Liberians outside their motherland can benefit of 100% Bonus when they top up an MTN mobile in Liberia. Cellcom subscribers will receive 300% Cellcom instant bonus. Both MTN and Cellcom bonuses apply for top ups of minimum $5.25 and are dedicated to those who talk a lot. The relatives or friends in Liberia need to use the bonus the day they receive it. This is valid for both Cellcom top ups and MTN. For MTN, though, the Bonus balance can be checked locally by dialling *124# . Sending mobile credit and the instant Bonus to MTN Liberia mobiles or Cellcom numbers takes 1 minute.
Four countries in Oceania offer 100% Digicel Bonus for calls, SMS and data use, according to the country, on top ups from abroad. This will encourage expats to support their families and friends from abroad.
For example, people from Papua New Guinea, Samoa, Nauru and Vanuatu who left the country can send mobile credit to their relatives; Digicel mobiles of minimum 20 PGK in order to automatically get a 100% Bonus. The minimum amount to receive the Bonus is WST 20 for top ups to Samoa, and AUD 10 to Nauru.
Daily promotions and weekly deals keep the MobileRecharge.com service a global leading facilitator. Among the most famous deals was the withdrawal of all processing fees on November 10, 2016, when they launched and celebrated World Top Up Day.
Every 2 minutes someone new joins MobileRecharge.com for several reasons that fans mention on review platforms:

Transactions are 100% safe; the service bears the label "Verified & Certified."
Paypal payment is accepted as well as all major cards, no matter the currency or country of the customer.
The service is among the easiest to use on the global market.
There are daily promotions always running on the "Promotions" page, or on the MobileRecharge app.
MobileRecharge app is available for Spanish or English speakers who want to refill on the go.
The website is available in several languages: English, Spanish, German, French and Italian.
All fans meet on Facebook, G+ and Twitter to keep up with the on-going promotions. The expat community on MobileRecharge.com Facebook page: https://www.facebook.com/MobileRecharge.Fan
Customer Service is seen as highly supportive; it is available 24/7 in both Spanish and English, and other international languages.
Video tutorials are available on YouTube for independent users on MobileRecharge.com page.
MobileRecharge.com is an interactive website designed by KeepCalling, a global telecommunications company registered in 2002 in USA. Presently, KeepCalling provides its services to hundreds of thousands of consumers and businesses, with a focus on customer satisfaction. KeepCalling has been listed by Inc 5000 as one of the fastest growing companies in the USA for 5 consecutive years. In 2015 the company registered a revenue increase of over 200% from 2011 to 2014. MobileRecharge.com is the first brand in history who initiated on Novermber 10, 2015 World Top Up Day to celebrate top up givers worldwide.