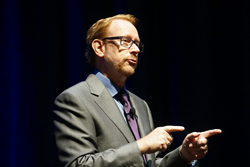 Towson, Md. (PRWEB) February 26, 2016
For the past year, the Maryland Association of CPAs and the Business Learning Institute have embraced futurist Daniel Burrus' idea that anticipation — the ability to identify future trends before they happen and act on them before the competition — is perhaps the most important missing competency in business today.
Now, the rest of the business world is embracing it as well.
"The Anticipatory Organization™: Accounting and Finance Edition," a revolutionary new learning system that teaches CPAs how to anticipate future trends and take advantage of the game-changing opportunities those trends offer, has been named by Accounting Today as one of the Top New Products for 2016.
Burrus, a world-renowned technology forecaster, innovation expert and New York Times best-selling author, developed The Anticipatory Organization™ in an effort to change how many of the world's most successful businesses plan their future and accelerate growth.
Now, in collaboration with the MACPA and BLI, Burrus is bringing what he calls the greatest missing competency – the ability to anticipate change – to CPAs, CFOs, controllers and management accountants. This model represents a new way of thinking, planning, and acting – a paradigm shift that's required in a world of accelerating change, competition, and uncertainty.
"I am honored by Accounting Today's recognition of the importance of this revolutionary new learning system," said Burrus. "I am very pleased that the accounting world is taking notice of The Anticipatory Organization's ability to help the profession thrive in a world of increasing change."
A JOB-SPECIFIC, COMPETENCY-BASED, ACCELERATED LEARNING SYSTEM
The Anticipatory Organization™ model teaches accounting and finance professionals to actively anticipate what will happen, identify related opportunities, and take action to shape the future by becoming an "Anticipatory CPA." By learning how to identify and take action on fully predictable "hard" trends (trends that will happen) and more easily manipulated "soft" trends (trends that might happen), we can elevate our relevancy in a world of transformational change.
The 28 lessons included in the learning series includes the following competencies:

Strategic thinking
External awareness
Vision
Continuous learning
Innovation
Creativity
Problem-solving
Prioritization
Business acumen
Decisiveness
Influencing / persuading
Emotional intelligence
Consensus building
Collaboration
Inspiration
Risk management
Burrus has been helping stakeholders to see and shape the future for more than 30 years. The Anticipatory Organization™: Accounting and Finance Edition synthesizes his approach into an "accelerated learning system" that includes a series of short, single-concept videos featuring Burrus that presents the model's core principles. Each video is followed by a job aid and rapid-application activities that teach the learner to apply the concept to everyday activities.
"It's exciting to receive this recognition as validation of this innovative approach to learning," said MACPA Executive Director Tom Hood. "The use of nano learning plus job aids and rapid-application templates, combined with team collaboration, are proving to be extremely effective in the organizations we are working with."
This new approach to learning has been customized with a customer co-creation group gathered by the MACPA and the BLI. The group – representing CPAs in small to large firms, CFOs, controllers, young professionals, and other segments across the profession – has worked with the Burrus team to gather accounting- and finance-specific examples that have been built into the learning platform. This transformative learning approach will help CPAs be proactive and anticipatory in less time than traditional professional development programs.
The result is a powerful tool that will help everyone on your team know what's next, develop opportunities, shape the future of the organization, and accelerate its success.
Accounting Today Editor-in-Chief Daniel Hood and Managing Editor Danielle Lee had this to say about the product:
"With a staff crunch going on, the accounting profession is scrambling for warm bodies — but it's also worth spending some time on the bodies that are already here. … The Anticipatory Organization: Accounting and Finance Edition, is a set of video courses and exercises created by a partnership of the Maryland Association of CPAs and its Business Learning Institute with futurist Daniel Burrus. The point of the coursework is to teach you, literally, how to predict the future by identifying reliable trends — and it actually works. The applications for firm strategy, client service, and guiding your own career are endless."
Get complete details about The Anticipatory Organization: Accounting and Finance Edition by visiting BLIonline.org/The-Anticipatory-Organization.
"The Anticipatory Organization" is a trademark of Burrus Research, Inc.