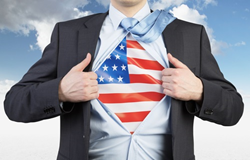 ""We are passionate about helping entrepreneurs get their start and feel there is no better chance to highlight the opportunities ByTheCrowd.com gives business start-ups than at Veterans Business Battle." Roger Janik, Veterans Business Battle board member
Houston, TX (PRWEB) February 25, 2016
The EO-Houston Veterans Business Battle, a business plan competition for military veterans, will also be the launching pad for a new crowdfunding platform aimed at funding entrepreneurial ventures. The competition, held at Rice University Feb. 26 and 27, includes 16 finalists from across the country whose ideas were selected from more than 125 applications.
The finalists' pitches will be live streamed on the site BytheCrowd.com, a new crowdfunding site aimed specifically at investing in entrepreneurial ventures. The site's unique "crowdvesting" approach allows the public to fund existing businesses through financial investments and use the power of the crowd to ensure the venture becomes a permanent, financial success for all stakeholders. Veterans Business Battle will be the first event live streamed on the site. It can be accessed at http://bythecrowd.com/content/pages/vet-biz-battle
The live stream will begin at 9 a.m. on Feb. 27, when the first presentations begin. Website users will be able to watch presentations, vote on their favorites, and contribute money toward the start-up businesses. Finalists will be presenting their ideas to a panel of selected investors at the live event.
""We are passionate about helping entrepreneurs get their start and feel there is no better chance to highlight the opportunities ByTheCrowd.com gives business start-ups than at Veterans Business Battle," said BytheCrowd.com founder and Veterans Business Battle board member Roger Janik.
The finalists include both existing small businesses poised for growth and new technologies. All finalists are honorably discharged military veterans, many who have served in combat. Winners of investment packages and cash prizes, as well as the voted-upon crowd favorite, will be announced the evening of Feb. 27 at the Veterans Business Battle awards dinner.
About Veterans Business Battle
Veterans Business Battle was established in 2015 by The Houston chapter of Entrepreneurs' Organization and Rice University's Veterans in Business Association. The competition aims to foster entrepreneurship among veterans, grow veteran-owned businesses and give back to veterans seeking to make a difference in the business world. More information is available at http://www.vetbizbattle.com.