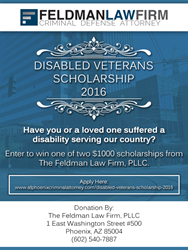 Phoenix, Arizona (PRWEB) March 08, 2016
The Feldman Law Firm, a Phoenix defense firm, and its founder, Adam Feldman, have announced that they will be offering educational scholarships for disabled veterans. This is an annual program, and there will be two scholarships, both in the amount of $1,000, awarded each year. The scholarships will be applied to help defray the tuition cost at a college, junior college, or a trade or secondary school. The program is available to both disabled veterans who are currently attending school, as well as those who are not now enrolled in an educational program.
Mr. Feldman believes that the program will provide recognition to those men and women who have been disabled during their service in the Armed Forces of the United States. The tuition assistance offered by the program may be used to help disabled veterans continue with their education, and thereby assist in allowing them to reach their educational goals.
Interested parties should visit the firm's website, where the details of the application and selection process, and related matters, are described in detail. The deadline this year for applications is November 10, 2016.
For questions about the scholarship program or how to apply, please contact via email:
The Feldman Law Firm, PLLC
1 E. Washington St., Suite 500
Phoenix, AZ 85004
602-540-7887
Mike(at)afphoenixcriminalattorney(dot)com