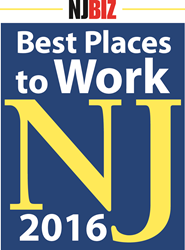 Edison, NJ (PRWEB) February 25, 2016
SBS Group has been named one of the 2016 Best Places to Work in New Jersey. This survey and awards program identifies, recognizes and honors the top places of employment in New Jersey that benefit the state's economy, workforce and businesses. The Best Places to Work in New Jersey program is made up of 100 companies split into two groups: 70 small/medium-sized companies (15-249 employees) and 30 large-sized companies (more than 250 employees).
To qualify, companies had to fulfill the following eligibility requirements:

At least 15 employees working in New Jersey
Be a for-profit, not-for-profit or government entity
Be a publicly or privately held business
A facility in New Jersey
A minimum of 1 year in business
Companies from across the state entered the two-part process to determine the 100 Best Places to Work in New Jersey. The overall registration and survey process was managed by Best Companies Group (BCG). BCG also analyzed the data provided and used their expertise to determine the final rankings.
The awards program, created in 2005, is produced by NJBIZ. The Best Places to Work in New Jersey awards reception and ceremony will be held on Tuesday, April 19, 2016 from 5 PM – 8 PM at iPlay America's Event Center in Freehold, NJ. During the awards ceremony, each company's ranking will be revealed live on the big screen. Guests are invited to access the amusement park to enjoy rides, games and dessert when the program ends.
The 2016 Best Places to Work in New Jersey is sponsored by Rymax Marketing Services, Inc., MassMutual New Jersey-NYC and Gibbons PC and partnered with SHRM.
For more information on the Best Places to Work in New Jersey program, please visit http://www.njbiz.com/events.
About SBS Group
SBS Group is a national Microsoft master VAR (Value Added Reseller) with Gold level competency in enterprise resource planning (ERP) and customer relationship management (CRM). Over the past 25 years, they have been recognized as Microsoft Partner of the Year, Inner Circle Member and Microsoft President's Club member multiple times. The company is headquartered in Edison, New Jersey and operates offices across North America. For more information, please visit SBS Group's website at http://www.sbsgroupusa.com. Follow us on LinkedIn at http://www.linkedin.com/company/sbs-group, on Twitter at http://www.twitter.com/sbsgroup and find us on Facebook at http://www.facebook.com/SBSGroupUSA.