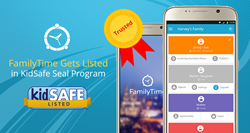 With the latest Access Control features, FamilyTime has taken digital parenting to the next level.
San Francisco, CA (PRWEB) February 29, 2016
FamilyTime is once again in the spotlight. The fast emerging parental control application makers are creating ripples in the digital parenting industry with an overwhelming response to their recently launched Access Control features. They have also been listed in the kidSAFE Seal Program – an independent security certification service – that reviews and certifies websites, apps and games that are kid-friendly and safe to be used by parents and children.
Only released a few weeks ago, FamilyTime is already getting a positive response to their new screen lock features including Bedtime, Dinner Time, Homework Time and Custom Family Rules options. These features have brought FamilyTime in the spotlight again and the app has become a preference among parents who are concerned about their children's online and offline safety. When asked about their new features, Aziz Ahmed, CPO of FamilyTime, said, "The response is overwhelming; well beyond expectations! Parents have enthusiastically welcomed the screen lock features, reinforcing our market research that parents want to manage and limit their children's phone usage, especially during study and meal times and late at night." With the latest Access Control features, "FamilyTime has taken digital parenting to the next level," Ahmed went on to explain.
What makes FamilyTime the best parental control app is their dedication towards making a difference. They have launched brand new lock screens to further enhance the Access Controls. These screen locks will help parents limit their kids' screen time so they can focus on their chores, studies and enjoy family time without distractions.
Now, parents have one more reason to trust FamilyTime. FamilyTime made an announcement on their blog on Friday about their kidSAFE membership. They have been listed in the kidSAFE Seal Program, designed exclusively to review, rate and certify those apps and websites that meet the highest standards of online safety and can be trusted by parents. When asked about the program, Syed Waqas Javed, CEO, said, "It's a big day for FamilyTime. kidSAFE is an independent service and is the most prestigious online security certification program. Getting membership and being listed in its Seal Program is the first step towards meeting the highest industry standards and implementing the most advanced security protocols. The kidSAFE recognition means that FamilyTime is a perfectly safe and secure app and can be trusted by parents."
Innovation and quality remain the hallmark of FamilyTime parental controls. After the success of its App Blocker feature, FamilyTime has rolled out its soft release on the iOS platform, so that parents can block certain inappropriate or distracting apps and games on their children's iPhones, iPads and iPod Touch devices. Previously, the feature was only available on Android devices.
Making its mark in the international markets, FamilyTime plans to launch multilingual support in the near future. They offer extensive customer support and parents may call +18667231238 to get their queries and issues addressed around the clock.
FamilyTime has come a long way since its launch a few years back and still has a long way to go. With advanced parental controls and a passion towards data security, FamilyTime can duly be dubbed as the best parental control software today.
FamilyTime is a digital parenting application that helps parents keep an eye on their children's whereabouts and monitor and manage content and time across devices. For more details, please visit their website.