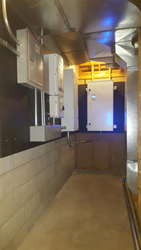 Lovell, ME (PRWEB) February 26, 2016
JuiceBox Energy, a privately-held Silicon Valley company committed to providing safe, reliable, intelligent, and connected energy storage, and ReVision Energy have embarked upon a unique installation of an 8.1 KW solar panel array and an innovative energy storage system at the Charlotte Hobbs Memorial Library in Lovell, Maine.
The 115-year-old library is being outfitted with the latest in high-tech energy storage that supports the board of trustees' mission statement to combine the traditional role of the institution with a commitment to reducing the building's carbon footprint. Funded by an anonymous donor, this project provides the library with integrated solar and energy storage to reduce grid reliance, lower costs, and ensure emergency standby electricity. The combined system consists of
27 high-efficiency solar panels and the intelligent JuiceBox Energy Storage solution
that can be controlled over a cellular, cloud-based network.
"Rooftop solar energy installations have accelerated rapidly in northern New England,"
stated Geoff Sparrow, Director of Engineering of ReVision Energy. "While many of our 4,000 installations have been on residential homes and small commercial buildings, we've seen a growing commitment by municipalities to install solar, and now energy storage, as a means of reducing their fossil fuel consumption and costs."
"The installation at the Charlotte Hobbs Memorial Library is a truly unique opportunity for us," added Neil Maguire, CEO of JuiceBox Energy. "Blending the latest energy storage technology with a historic institution demonstrates that sustainability has a role in protecting our important community resources for generations to come."
The JuiceBox Energy storage system is an intelligent, 8.6kWh, 5.5kW lithium-ion battery system designed for safe, reliable, long lasting power management. It is designed, engineered, and manufactured by JuiceBox Energy based on their years of automotive lithium ion control systems engineering. The systems can be linked together and they can support utility demand response programs, where available. The system is designed to support grid-tied, grid isolated in the event of grid failure, and off-grid configurations.
Each system delivers more than 10 years or 4,000 cycles of dedicated peak shifting, back-up power, energy efficiency, as well as enables participation in emerging transactive energy exchanges. A cellular gateway linked to a secure cloud-based repository enables remote monitoring, updates, and control. The JuiceBox Energy storage system is housed in an indoor/outdoor UL-rated enclosure.
Northeast U.S. customers interested in the JuiceBox Energy storage system should contact ReVision Energy. Solar installers interested in JuiceBox Energy representation and installation certification should contact JuiceBox Energy.
About JuiceBox Energy, Inc.
Founded in 2013, JuiceBox Energy is committed to providing safe, reliable, intelligent, and connected solar energy storage for renewable energy. JuiceBox Energy Storage solutions are designed to support consumer self-consumption and enable a resilient, renewable energy grid in order to power a cleaner, sustainable planet. For more information, visit http://www.juiceboxsolar.com and follow us on Twitter: @juiceboxsolar.
About ReVision Energy
ReVision Energy began in 2003 with the mission to help people and businesses transition toward sustainable solar energy. Trusted as the industry leader in solar design, installation and service in northern New England, ReVision Energy provides a full range of services for homes, businesses, municipal buildings and nonprofits. To date, ReVision Energy has installed over 3,000 systems and has branches in Portland and Liberty, Maine and Exeter, New Hampshire. For more information please visit http://www.revisionenergy.com.