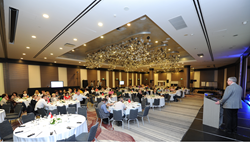 The courses permit me to make better scientific presentations to my colleagues in other countries and to engage in more informative interactions with my patients
Atlanta, Georgia (PRWEB) February 26, 2016
Innovaacom, a leading provider of medical education and training for healthcare professionals worldwide, today announced the results of post-program polls conducted in Asia. The data that was compiled following the launch of professional development programs in Korea, China, and Thailand found that 100% of attendees would recommend the courses.
In 2007, Innovaacom conducted market research that revealed post-graduate healthcare professionals value professional development training, as much if not more, than clinical training. The findings are the impetus behind the design of Innovaacom's current CME and non-CME curriculum which seeks to improve physicians' core competencies in medical writing, communications, critical thinking, and leadership. "The courses permit me to make better scientific presentations to my colleagues in other countries and to engage in more informative interactions with my patients," said one attendee.
The popular training programs promote the internationalism of knowledge in the medical, pharmaceutical and nursing fields. Innovaacom's offerings include continuing education training in medical manuscript writing, the creation of scientific posters and abstracts, grant writing, scientific presentations and advanced adult learning programs that foster critical thinking and problem-solving. Polls conducted from three separate programs attended by more than 300 physicians found that 98% felt the programs were relevant to their careers and that they were more confident in the impact of their oral and written medical communications skills following the intensive training.
Innovaacom is proud to be a preferred education partner for many industry leaders whose goal is to provide global access to the innovations and best practices that will prepare today's healthcare professionals for tomorrow's science and medicine. To date, nearly 11,000 physicians, pharmacists and nurses in more than 32 countries from across Europe, Asia, Latin America, Africa, China and the Middle East have benefited from the training that closes medical knowledge gaps and positively impacts clinical practice and public health policy. For more information, visit http://www.innovaacom.com.
About Innovaacom
Innovaacom is a global agency providing medical education and training for healthcare professionals worldwide. Headquartered in Rome, Italy, Innovaacom also operates strategic hubs in the U.K., U.S., U.A.E and New Zealand and delivers programs in any language anywhere in the world. A preferred medical education provider to some of the world's largest pharmaceutical companies, Innovaacom's training combines science with leadership and communications skills training. Program design and delivery includes CME and non-CME training programs for nurses, physicians, and community pharmacists that enhance the quality of scientific exchange to advance science and medicine.