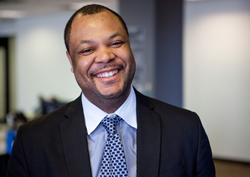 I look forward to building out the paid department at Splash Media and bringing a new level of media expertise to our clients.
Addison, TX (PRWEB) February 25, 2016
Splash Media Group, a leading global digital marketing, social media solutions and award-winning video production agency, has hired Derek McIntyre as managing director of digital media. He will oversee all client strategic planning and media buying, including pay per click (PPC), direct response, native and programmatic solutions and digital brand management.
"This is an exciting move for me in my career," said McIntyre. "I look forward to building out the paid department at Splash Media and bringing a new level of media expertise to our clients. Our client roster will now have access to digital media platforms and strategies normally reserved only for upper echelon media spenders."
McIntyre previously served as programmatic digital media director at Ansira. For more than 12 years, he has managed traditional and digital media buying for major clients, including Wendy's, Coca-Cola, Planet Fitness, Eye Mart Express, Mercedes Benz and Carpet One. During his time at Belo Interactive, the digital media group grew the business ten-fold over a three-year period.
John Dankovchik, chief executive officer at Splash Media, expressed his enthusiasm about adding McIntyre. "We are excited Derek joined our leadership team to deepen our bench-strength and expertise in the digital media buying space. We look forward to Derek enhancing our capabilities in this area as we are seeing a greater intersection of paid digital marketing and organic social media as a key consumer engagement differentiator."
With deep experience managing campaigns and paid media across a variety of outlets, including broadcast media buys, radio buying, digital media buying and digital optimization, McIntyre brings a new level of audience targeting and paid media expertise to Splash Media. His familiarity with programs such as DataXU and Liveramp will be used to build attribution models, map customer journeys and increase digital conversions for Splash Media clients.
McIntyre is the latest in a series of strategic additions to the company. Earlier this year, Splash Media added Steven Campanini, chief communications officer and head of healthcare; Jim McKinnis, president and chief creative officer; and Sterling Hayman, director of account management.
McIntyre is a Texas native and earned a Bachelor of Science degree in Public Affairs and Community Service from the University of North Texas.
About Splash Media Group
Based in the North Dallas suburb of Addison, Texas, Splash Media Group has leveraged its expertise in video and television production since 2005 and launched a social media practice in 2010 that has evolved into one of the leading social media agencies in the world. Operating in 22 countries in 19 native languages and engaging 320 million consumers daily, Splash Media Group provides comprehensive social media services from consulting to full outsourcing. Services include online marketing strategy development, online reputation management (ORM), search engine marketing (SEM), search engine optimization (SEO), community management, content marketing (video and blog creation) and analytics/reporting, just to name a few. For more information, visit http://www.splashmedia.com.