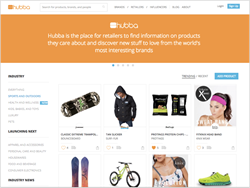 Toronto, Canada (PRWEB) February 25, 2016
Hubba, the world's fastest growing network for brands and retailers, announces the launch of the Hubba Discovery Network. Today on Hubba, over 10,000 companies and hundreds of thousands of products are shared between trading partners. The Hubba Discovery Network now allows these companies to showcase their products and be discovered by new retailers, distributors, industry influencers, media and other partners
As of today, anyone can log onto http://www.hubba.com and be immediately presented with unique brands and their products. Users can follow and connect directly with brands and add products to be highlighted on the network. Hubba has quickly become the destination for Product People. The company reports that during the initial beta launch, users were engaged on the site multiple times a day, staying for extended periods of time and were responsible for thousands of new connections.
"Since we launched our network 18 months ago, Hubba has seen unprecedented growth that has culminated in an amazing community of the world's most interesting brands," says Ben Zifkin, Founder and CEO of Hubba. "As we move to the next stage in the evolution of our network, it is important to us to now showcase these companies to the rest of the world." Already working with large companies like Unilever and Anheuser-Busch InBev, Hubba is equally focused on shining a light on the ever-expanding world of craft brands. These are brands that have special stories and cultivated a niche following, but are now primed to break into the mainstream. The Hubba Discovery Network gives these brands a voice to gain greater visibility and notoriety.
Product discovery has historically been a function of costly and infrequent industry tradeshows or random internet searches. "Think of Hubba as a 24/7 tradeshow, that is always fresh and tailored to you," says Zifkin. Retailer buyers, who are under constant pressure to differentiate, likely already know of the dozen incumbent brands in any given category. Hubba can now serve them with hundreds more that they would not have known about. Influencers can cultivate an industry following on Hubba, but more importantly, they can learn about new products and brands before they even hit stores. On Hubba, Brands can showcase their products to thousands of buyers and influencers who they could not access before.
The Hubba Discovery Network spans dozens of verticals, but has launched with several specialized communities: Sports & Outdoor, Babies & Toys, Health & Wellness, Pet, and Luxury. Given the incredible interest to date, Hubba plans to launch a new community every three weeks. The next communities to launch include Apparel & Accessories, Personal Care & Beauty, Housewares, Food & Beverage, and Consumer Electronics.
Please join us at Hubba.com to find information on the products you care about and discover new products from the world's most interesting brands.
ABOUT HUBBA
Hubba is the place where Retail buyers and influencers get product information on the products they love and discover new stuff from the most interesting brands in the world.
Hubba has been included on Deloitte's Hot 50 Companies to Watch list, Top 3 Best New Startups (KPMG Startup Awards), the Top 20 Most Innovative Companies (CIX) and Top 25 Up and Coming ICT Companies (Branham Group). In addition, Hubba is proud to be a founding partner of Ladies Learning Code and founding donor to the Upside Foundation.