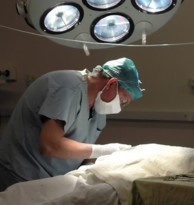 Advanced intra-operative monitoring with prompt corrective interventions will help in improved patient outcome.
Raleigh, NC (PRWEB) February 26, 2016
Researchers at a hospital in Karnataka, India say their management of a 58-year-old man's radical mesothelioma surgery shows how the procedure can be made safer for other patients. Surviving Mesothelioma has just posted an article on the revealing case report. Click here to read it now.
Doctors at Manipal Hospital say sudden changes in body temperature during extrapleural pneumonectomy (EPP) and heated chemotherapy (HITHOC) account for some of the most serious mesothelioma surgery complications. But they can be overcome.
"Thorough pre-operative assessment and preparation [and] advanced intra-operative monitoring with prompt corrective interventions will help in improved patient outcome," writes anesthesiologist Dr. Jalaja Koppa Ramegowda.
The report, in the Indian Journal of Anaesthesia, demonstrates how interventions such as warming blankets and cold intravenous fluids can be used to make mesothelioma surgery more survivable.
"EPP mesothelioma surgery remains controversial, largely because of the high risk for complications," says Alex Strauss, Surviving Mesothelioma's Managing Editor. "It is encouraging to think that there may be ways to reduce some of these complications and achieve better outcomes."
To read more about the surgical interventions the Indian team used to manage their mesothelioma patient, see Reducing Complications in Radical Mesothelioma Surgery, now available on the Surviving Mesothelioma website.
Ramegowda, JK, et al, "Anaesthetic management of extra-pleural pneumonectomy and hyperthermic introthoracic chemotherapy procedure", Indian Journal of Anaesthesia, December 2015, pp. 807-810, http://www.ijaweb.org/article.asp?issn=0019-5049;year=2015;volume=59;issue=12;spage=807;epage=810;aulast=Ramegowda
For nearly ten years, Surviving Mesothelioma has brought readers the most important and ground-breaking news on the causes, diagnosis and treatment of mesothelioma. All Surviving Mesothelioma news is gathered and reported directly from the peer-reviewed medical literature. Written for patients and their loved ones, Surviving Mesothelioma news helps families make more informed decisions.