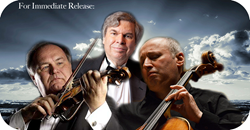 "the distinguishing feature of Jewish music is the ability to build a jolly melody on sad intonations. Why does a man strike up a jolly song? Because he feels sad at heart." ~ Dmitri Shostakovich, about a melody in the third movement of Piano Trio No.2
Palm Beach, Florida (PRWEB) February 29, 2016
InterHarmony® International Music Festival presents a chamber music concert featuring pearls of the piano trio repertoire with Festival Founder Misha Quint (cello), and IIMF guest artists Andrzej Grabiec (violin) and Gerald Robbins (piano) on Sunday, March 13th at 5PM. The program is an illustration of the romantic tradition of the Piano Trio, performed by soloists, that brings to mind the famed Heifetz – Rubinstein – Piatigorky Trio. This is the final concert in the first season of the InterHarmony Palm Beach Series. For tickets call the box office at 561-362-0003 or order online with credit card at palmbeachestheatre.org.
In existence for almost two decades, InterHarmony® International Music Festival has become one of the important festivals worldwide, and the fastest growing. Anchored in Arcidosso, Tuscany, Italy and Sulzbach-Rosenberg, Bavaria, Germany each summer, the festival boasts a new Outstanding Guest Artist Series that features stars such as Alfred Brendel and Vadim Repin. Now, fresh from a run at the InterHarmony Concert Series at Carnegie Hall in New York, IIMF's founder and cellist Misha Quint brings some of the best of these programs with him to Palm Beach.
Rachmaninoff's early Trio élégiaque No.1 in g minor, is a study in barely restrained yearning. The piano's rising four-note theme swims on a sea of thirty-second notes whipped up by the cello and violin. The mood shifts fluidly between melancholy desperation and wistful nostalgia, trapped in a cycle of longing, returning again and again to those four bittersweet notes, like a prayer.
Dvořák's "Dumky" trio (Piano Trio No.4 in e minor, Op.90) is a compact, but unforgettable musical odyssey. In this freely structured collection of six "dumky," Ukrainian ballads and laments, the cello, violin and piano sing the songs of a small people torn between great empires. This dark, Bohemian fantasy invites the listener deep into a forest of gnarled melodies, where sudden clearings open and mad dances whirl.
Shostakovich's Piano Trio, No.2 in e minor, Op.67 strikes a tragic tone. The year was 1944, the composer's good friend Ivan Sollertinsky had died and the country was nearing the end of hard war. Here, after the public bombast of his Leningrad symphony, was a private expression of doubt: anxiety for the future and sorrow for the past. Its premiere made a devastating impression – the audience wept openly and demanded encores. It was immediately banned.