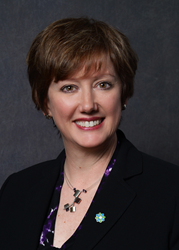 (PRWEB) February 29, 2016
Penn Community Bank President and CEO Jeane M. Coyle will speak at the spring 2016 Women in Banking Conference sponsored by the Pennsylvania Bankers Association.
To be held March 6 and 7 at the Hershey Lodge & Convention Center, the conference brings together women leaders in the banking industry from across Pennsylvania to network and discuss trends and developments in banking.
Coyle will participate on the CEO panel along with Patricia A. Husic, President and CEO of Centric Bank, Harrisburg, Charlotte B. McLaughlin, CEO, PNC Capital Markets, Pittsburgh, and Evelyn F. Smalls, President and CEO, United Bank of Philadelphia. The panel will be moderated by Bonnie McGreer, Managing Editor of American Banker magazine.
Formed by the unification of First Federal of Bucks County and First Savings Bank of Perkasie, Penn Community Bank is Bucks County's leading mutual financial organization. Previously President and CEO of First Federal, Coyle oversaw the successful unification of these two longtime local mutual banks into one new independent regional financial organization.
With more than $1.8 billion in assets, Penn Community Bank is Pennsylvania's second largest mutual bank, large enough to compete - and thrive - alongside larger banking firms, while still offering personal service in every community it serves. Penn Community Bank was formed to strengthen mutual, independent banking in the area, creating a bank for people who prefer to do business with a financial institution that values people as much as it does profits.
To learn more about the 2016 Women in Banking Conference, visit the Pennsylvania Bankers Association website PABanker.com.
About Penn Community Bank: A Pennsylvania chartered stock savings bank, Penn Community Bank was created in 2015 by the unification of long-standing community banks First Federal of Bucks County and First Savings Bank of Perkasie. It holds more than $1.8 billion in assets and employs more than 300 people at 22 bank branches and two administrative centers throughout Bucks County. Penn Community Bank offers expert financial advice on banking, insurance and investments, delivered by friendly people through convenient services. Penn Community Bank's mission is to help businesses grow and prosper, support individuals and families throughout their lifetimes, strengthen the local economy, and partner with local organizations to act as a catalyst for positive growth in every market it serves.