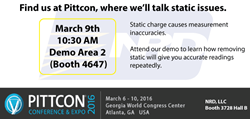 "The most sensitive weight applications suffer from offset wander due to both static charge within the balance and objects in their environments." Dr. Larry Levit
Grand Island, NY (PRWEB) March 01, 2016
NRD,LLC will be a crucial part of solving laboratory challenges at this year's 2016 Pittcon. In addition to being an exhibitor in Booth 3728 Hall B, NRD will conduct a demonstration at the exposition on March 9th at 10:30 AM, Demo Area 2 (Booth 4647). The demonstration is focused on helping attendees learn how important static control is to ensure accurate, repeatable measurements when using analytical balances for precision weighing applications.
The presentation will highlight the challenges associated with weighing fine powders and small particulates since they often pick up static charges from the air, nearby objects and even laboratory technicians. NRD's live demo will show that without eliminating static charge in laboratory settings, repeatable, accurate measurements in the sub-milligram range are nearly impossible.
During the presentation, Colleen Clancy will offer practical static elimination solutions using NRD's Staticmaster line of ionizing devices. Traditional corona (electrical) and alpha (NRD's proprietary technology) ionizers devices will be used to remove static charge from lab techs, transfer media, weigh boats and other tools used for precision weighing. The presentation contains valuable information for all Pittcon attendees working in virtually any laboratory configuration including those for pharmaceutical companies, private laboratories, forensic laboratories, hospitals, and higher educational settings.
Clancy's appearance supports NRD's white paper contribution to Pittcon, Mitigating Electrostatic Effects on Measurement Accuracy. A copy of the white paper will be offered after the live demo. Ms. Clancy will be also available for more in-depth, one-on-one discussions during the Pittcon poster session Monday, March 7 from 1:00 - 3:00 pm on Exposition Floor, Aisle 400.
The importance of a static-free environment for precision weighing accuracy will be demonstrated with:

ESD Workstation Kit
Auto-Balanced Ionizing Fans
Self-Powered Ionizing Cartridges
Ionizing Cartridge Positioners
Static Eliminating Brushes
Bench-top Ionizing Bar
NRD Advanced Static Control is one of the world's largest and most experienced manufacturers of ionization devices and static eliminators. As the only company that produces both alpha and electrical ionization products, NRD Advanced Static Control has a static elimination device to suit virtually every precision weighing application.