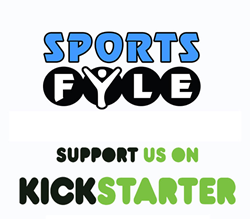 Your 'FYLE' is your online profile....your sports resume or scrapbook."
Chicago, IL (PRWEB) February 29, 2016
After playing a game of pickup hockey, David Garside and Eric Hays had a question—why are there no social networking sites for hockey? As lifelong hockey fanatics, they wanted a better online social outlet for the game.
They formed SportsFYLE, LLC to develop a hockey social platform and knew that if it works for hockey, it will work for other sports. HockeyFYLE became the prototype for a series of future social networking sites dedicated to sports. The pair have launched a Kickstarter campaign to promote and garner support for their idea. They set a target to raise $25,000 by March 17.
"We thought it would be cool if people could create online virtual sports scrapbooks or resumes," Garside said. "Today, all of our pictures are on phones and computers. Who has time to organize the thousands of pictures we all have? I want a place where I can capture hockey-related pictures and be able to share them with family and friends. Also, we are excited about the potential to add additional features that will improve the user experience on our HockeyFYLE site. Every sport is a little bit different, and that is why a separate sports social network site for each sport will have their own appeal. We can create online communities that are different from anything else that's out there. By doing this, our networking sites will become a popular destination for people involved with sports."
HockeyFYLE is currently a prototype website that has a small group of users. When the site is ready to add more hockey fanatics, SportsFYLE will open the flood gates to new members.
The campaign's main goal is to share the idea with the crowdfunding community and find support to develop the business. Backers have several reward options to support SportsFYLE and will be part of the journey supporting this innovative idea.
Hays said that the pair have already created a brand and an idea that has a unique concept; however, many challenges remain to have a site ready for a major roll out. He remains confident that with the right approach, this can be done.
"We have the drive and expertise to make this happen," he said. "While we have a great foundation for our social platform, we have several infrastructure and design hurdles to overcome. We are excited to share our idea and offer a better way for people to organize and connect to the sports they love."
More information about SportsFYLE and the founders is available at http://www.sportsfyle.com, and more information about the Kickstarter campaign is available at SportsFYLE Kickstarter.