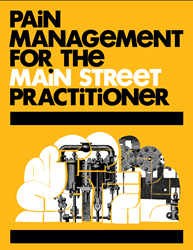 If you treat patients with chronic pain, then you are under pressure—pressure to help relieve suffering without doing harm.
Montclair, NJ (PRWEB) March 01, 2016
PAINWeekEnd attendees have spoken! "Excellent speakers + presentations. I was ready to just put in my time to get my CEs and endure a necessary topic. Instead, I enjoyed a variety of useful presentations given by experts who were willing to make their specialty applicable to those of us in family practice. I was very impressed by the conference and would definitely recommend it to others."
PAINWeekEnd Regional Conferences are now in their 6th year! PWE Los Angeles on March 19 will provide busy clinicians and allied healthcare practitioners with relevant, practical instruction in the management of chronic pain. The conference, offering continuing medical/legal and clinical pain education, will take place at The Garland, 4222 Vineland Avenue, North Hollywood.
"If you treat patients with chronic pain, then you are under pressure—pressure to help relieve suffering without doing harm," says Founder and Webmaster of HelpforPain.com, Steven H. Richeimer, MD. "This is a most difficult task, and the physician must be up-to-date on the latest tools for treatment, as well as the potential pitfalls of treatment." Dr. Richeimer is Chief, Division of Pain Medicine, University of Southern California, where he is also an Associate Professor in the Departments of Anesthesiology & Psychiatry. He is the author of Confronting Chronic Pain from Johns Hopkins University Press.
The state of California requires 50 credits every 2 years for licensure reregistration. By attending PAINWeekEnd Los Angeles, participants can receive 6.0 CE/CME credit hours as they enhance their skills in medication risk evaluation and mitigation, pain assessment and diagnosis, and delivery of individualized multimodal treatment. Course topics include Diagnosis and Management of Central Pain; Fire the Molecule, Not the Patient! Addressing Irresponsible Prescribing Through Universal Precautions; Embrace 2016 Practice Changes and Patient Education: Overview of Critical Pain Management Practice Issues; Chronic Pain Patients Who Fail Standard Treatment: Identification and Strategies; Patient Centered Urine Drug Testing; and Get Your Specimens in Order: The Impact of Changes to the Clinical Laboratory Fee Schedule (CLFS) and Payor Policies on Medical Record Documentation. In addition, there will be commercially supported activities addressing a range of product, disease state, and medical information topics. To see the complete agenda, and more information about this or other PAINWeekEnd Regional Conferences, go to painweekend.org.
The online registration fee for this PAINWeekEnd Conference is $129. PAINWeekEnd registrants are further offered the opportunity to register for the 2016 PAINWeek National Conference, September 6-10, in Las Vegas, for $129 off of the current online published price.
PAINWeekEnd is provided by Global Education Group.