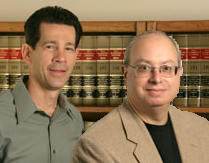 You don't practice bankruptcy law looking to get rich.
Los Angeles, California (PRWEB) February 29, 2016
The Los Angeles bankruptcy law office of Bayer Wishman Leotta just celebrated its 27th anniversary. Established in 1989, the firm has handled about 15,000 bankruptcy cases and discharged about 1 billion dollars of debt for their clients. Co-founders Jeffrey Wishman and Leon Bayer say, "If you have a debt problem, you have a friend. Call us. We know what to do for you."
The law office handles only bankruptcy cases. Nothing else. Wishman says, "If you have a million dollar accident case, don't call us. We don't want to handle it. But if you're broke and owe money you can't pay, we are here for you."
Do people ever file bankruptcy on their own, without hiring a lawyer? "Sure they do," says Bayer. "People also jump off of bridges, but that doesn't solve anything."
Bayer says that filing bankruptcy without a lawyer is extremely risky. "For example, people file Chapter 13 bankruptcy mostly to save their homes from foreclosure. But the Los Angeles Bankruptcy Court made a careful study to see how successful people are when filing without an attorney."
"The court found that people who file Chapter 13 bankruptcy without a lawyer have less than a 1% chance of having their case approved. That adds up to a whole lot of people who are going to lose a home that could have been saved. I guarantee that you can afford a lawyer if you can afford a house payment." Bayer says the odds are better for people filing Chapter 7 without a lawyer, but are still six times more likely to fail if filed without a lawyer.
How does a bankruptcy law office remain in business for so long, representing clients who are broke? Says Wishman, "You don't do this kind of law looking to get rich. You do it out of passion and respect for all people. That's not to say a bankruptcy lawyer can't make a decent living. You can, but it takes a very long time. Mr. Bayer started doing bankruptcy law in 1979 and I started in 1980. You just have to keep in mind that at least part of your compensation gets paid in the form of moral satisfaction from helping people solve their problems."
Ever since opening in 1989, the firm has maintained a tradition of providing everyone with a free consultation. Says Wishman, "We will talk to you for free. We are going to answer all your questions. We will tell you all your alternatives, and what to expect. We will not recommend bankruptcy unless we are certain that it's what you need."
The firm has published a book to help people understand the remedy of bankruptcy law. Says Wishman, "You can buy our book on Amazon for about $20. (The book has a great 95% Five Star rating.) But, we'll let you read the E version on line for free. It's called, The Best Bankruptcy Book.