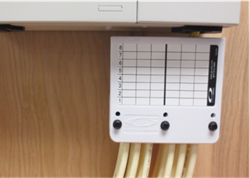 Until now, there has been very little focus on effectively managing microducts
Livermore, California (PRWEB) March 01, 2016
All Systems Broadband announces the availability of its new Microduct Manifold. This scalable product provides an organized transition point between microduct tubing and wall mount enclosures. It can also provide a managed microduct termination point when routing multiple tubes to a single location such as during the construction phase of a new multiple tenant building.
"Service providers are extending fiber into multi-dwelling units (MDU) using microduct to protect fibers throughout the building," said David Braga, Vice President of Product Development, All Systems Broadband. "Until now, there has been very little focus on effectively managing microducts or the transition point between the microduct and the wall mount enclosure, which typically houses splices and passive devices " he said.
The innovative design of this new manifold achieves strong and consistent retention force across all tube positions. The plates that form the manifold stack vertically on top of each other to preserve valuable wall space, which is important in the crowded telco closets often found in multiple dwelling units (MDU). The Microduct Manifold has been optimized to work with ASB's line of wall mount enclosures, but can also provide similar benefits to installations that use other interconnect enclosures.
Each manifold kit includes a cover to protect fibers as they transition from the microduct tubes to the wall mount enclosure, thereby providing seamless protection for MDU fiber installations. A label on the cover helps deliver installation efficiency by providing readily visible identification for all tube positions. Microduct manifold kits are available for both 24 and 72 tube installations, and custom kits can be created for other specific applications as well.
More information about this new product may be found by clicking here.
All Systems Broadband is a major supplier of fiber and copper connectivity products to service providers throughout North America, and has millions of its products deployed with customers, including many of the world's largest telecommunications providers.
###
All Systems Broadband (http://www.allsystemsbroadband.com) creates and manufactures innovative fiber solutions for network service providers. The company collaborates with its customers to understand problems and design solutions. Its extensive product portfolio includes fiber enclosures and shelves, passive devices such as CWDM, DWDM, and splitters, fiber cables and apparatus, transceivers, HDMI and A/V cables and more.
Media Only Contact: Greg Calton All Systems Broadband, Inc. +1-925-449-2740 greg(dot)calton(at)allsystemsbroadband(dot)com