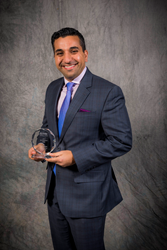 CHICAGO (PRWEB) February 27, 2016
Dave Shalabi of RE/MAX Synergy in Orland Park, Ill., and Alison France of RE/MAX Excels in Geneva, Ill., recently were cited by Chicago Agent magazine for the exceptional sales growth they achieved in 2015.
The magazine looked at the sales results of all real estate agents in the metro area and then ranked them by total sales for the year. It then compared that ranking to the one done a year earlier. In terms of which agents saw their ranking increase the most in 2015, Shalabi had the second largest increase, advancing 2,010 places in the ranking, while France had the fourth biggest gain, advancing 1,927 places.
Shalabi credits the strong uptick in his business to an enhanced focus on communicating with his roster of past clients.
"We've always done that, but last year we put a greater emphasis on it, and the dividends paid were huge," Shalabi said. "It demonstrated again the importance to anyone in our business of building a large pool of satisfied clients."
France noted that her business also relies heavily on working with past clients and others referred to her by those clients.
"It wasn't that we did anything different, but it was just a year when things came together really nicely," said France. "I always take the long-term view of my business knowing that satisfied clients are the best form of advertising I can get."
"Confidence in the economy seemed to increase last year. As a result, people were prepared to put into action the kinds of steps they might have been thinking about for several years, whether that meant buying a larger home or changing neighborhoods or downsizing for their retirement years", says France.
Merrion noted that both Shalabi and France have had long careers with RE/MAX.
"The remarkable success Dave and Alison achieved in 2015 is a point of pride for our entire network," he said. "It underscores one of the basic tenets of the RE/MAX organization, which is that we believe in the value that experienced, full-time real estate professionals deliver to their customers."
RE/MAX agents consistently rank among the most productive in the industry. In 2015, RE/MAX Northern Illinois agents averaged 18 transaction sides. RE/MAX has been the leader in the northern Illinois real estate market since 1989 and is continually growing. The RE/MAX Northern Illinois network, with headquarters in Elgin, Ill., consists of more than 2,250 sales associates and 105 independently owned and operated RE/MAX offices that provide a full range of residential and commercial brokerage services. Its mobile real estate app, available for download at http://www.illinoisproperty.com, provides comprehensive information about residential and commercial property for sale in the region. The northern Illinois network is part of RE/MAX, a global real estate organization with 100,000+ sales associates in 90+ nations.
####
EDITOR'S NOTE: RE/MAX® is a registered trademark. Please spell in all caps. Thank you. This release is posted at blog.illinoisproperty.com.