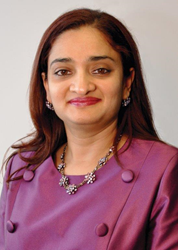 Washington, DC (PRWEB) February 25, 2016
Clements Worldwide, a leading provider of global insurance since 1947, is pleased to announce the promotion of company veteran Smita Bhargava, formerly Malik, to Vice President of Special Programs & Risks. Smita has been part of the leadership team at Clements for almost a decade and has been instrumental in the explosive growth of the company and its global expansion with offices now in London and Dubai.
It has been a busy year for Smita who also achieved her U.S. citizenship, during which time she reverted back to her maiden name Bhargava (BAR-gahv).
"Smita is a valued member of the leadership team that will enable us to continue to grow aggressively across personal and commercial line products," said Chris Beck, President of Clements Worldwide. "We congratulate Smita on her remarkable achievements at Clements and her recent citizenship."
Smita has been with Clements Worldwide since 2006. She began her insurance career in India in 1996 as a broker (Insurance and Reinsurance) and has worked in various insurance markets, forging strong relationships with underwriters and insurance providers in India, the U.K., U.A.E., Asia and the U.S.
Smita speaks frequently at conferences, forums, and to the press on managing risk through insurance products in high-risk countries including Iraq, Afghanistan, Pakistan, and Yemen, with recent quotes in Reuters, CBS MONEYWATCH, The Guardian, Globe & Mail, Daily Finance, and more.