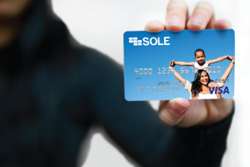 Alliance Bank wanted a cost-effective solution that would allow every employee of their commercial customer base to participate in direct deposit.
Portland, OR (PRWEB) March 01, 2016
SOLE® Financial, a leader in the prepaid payroll card market, has partnered with Alliance Bank, an Indiana-based community bank, to offer the SOLE Paycard through the SOLE Financial Institution Program to Alliance Bank's commercial client base.
Brick-and-mortar banks have seen an increased need to offer a paycard to their commercial clients who employ unbanked workers, but face an uphill compliance and logistical battle when it comes to implementing the product in-house. SOLE solves this problem with the SOLE Financial Institution Program. By partnering with SOLE, banks and credit unions are able to meet the need for a paycard by offering the standard SOLE product to their commercial accounts who are asking for a paycard solution, while continuing to focus on the traditional banking services in which they specialize.
Payroll cards are the one of the fastest-growing payment products according to Aite. Offering the SOLE Paycard will enrich Alliance Bank's suite of features while allowing the Bank to remain competitive and progressive in a marketplace where employers are increasingly looking to raise direct deposit participation. Alliance Bank, which prides itself on being an early adopter of new technology, will have a number of clients open to this service who are currently issuing paper checks. Alliance is expected to save its clients significant revenue by transitioning those clients from paper checks to the SOLE Paycard.
Payroll cards allow employees who are un- and underbanked to participate in direct deposit without opening up bank accounts. The unbanked employees who work for Alliance Bank's clients will now have access to services typically only offered to the banked population, such as online bill pay, point-of-sale cashback and a mobile app to check account balances. The SOLE Paycard provides cardholders with their card's routing and account numbers so those employees can use the card for any direct deposits. This feature gives cardholders the ability to receive tax returns, child support, and paychecks from any job, all in one place. For many cardholders, the card is their first experience of holding all of their money electronically, in one FDIC-insured account.
From SOLE Financial Director of Financial Institutions, Erik Farleigh: "SOLE Financial is thrilled to partner with Alliance Bank—a forward thinking, customer-centric financial institution. Alliance Bank wanted a cost-effective solution that would allow every employee of their commercial customer base to participate in direct deposit. With our unique blend of cardholder education, ongoing client support, and creativity from a marketing standpoint, the SOLE Visa® Payroll Card was the perfect fit. We're proud to be aligned with an organization that has such similar corporate values: Customer intimacy, stewardship, technology and integrity."
"We are very excited to add SOLE Paycard to our suite of electronic banking services," said Vice President/Electronic Banking Manager, Tanya Burton; "As an Ag/Commercial Community Bank, we recognize the advantages SOLE Paycard offers our community residents and businesses, which substantiate our brand."
About SOLE Financial:
SOLE Financial aims to serve the underserved by providing a low-cost alternative to predatory check-cashing services for un- and underbanked employees. By partnering with employers to achieve 100% direct deposit, SOLE saves employers time, paper and money while providing the convenience and dignity of traditional banking services to the unbanked workforce. SOLE paycard holders can access their hard-earned paycheck at no cost through point-of-sale and cashback transactions.
SOLE Financial is a rapidly growing company in the payroll card marketplace. Since 2010, SOLE's topline revenue has increased by 346% while its active funded cardbase has increased by 394%. SOLE serves over 3000 employer clients nationally.
About Alliance Bank:
Alliance Bank is a seven-location Indiana community bank that has grown dramatically since its inception in 1930. Alliance prides itself on building strong, personal customer relationships. It is the mission of Alliance to provide every customer with solid financial solutions centered on their lives. Alliance is committed to its communities, its customers, its employees, and its shareholders. Alliance actively supports local businesses, charities and other organizations to keep its communities strong and vibrant. Alliance is an early adopter of new technology, progressive, and forward thinking. Alliance strives to be experts in its markets and provide financial products and services that meet clients' needs and expectations. Alliance customers can be sure that Alliance will always provide conservative, careful stewardship of their money, honest answers, and a sincere commitment to their financial success.
The SOLE® Visa® Payroll Card is issued by Axiom Bank, member FDIC, pursuant to a license from Visa U.S.A. Inc. and may be used everywhere Visa debit cards are accepted.