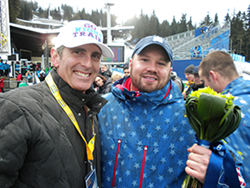 Live Life to Its Fullest
SALT LAKE CITY, UTAH (PRWEB) February 26, 2016
On Saturday, February 27th, at 1pm, Beverly Hills eye surgeon Dr. Brian – America's TV Eye Doctor – will sing along to a musical honoring Olympic and Five-Time World Champion winning patient Steven Holcomb at Valley View Elementary School, 1395 South 600 East Bountiful, UT 84010.
Written and performed by 3rd to 6th graders at Valley View Elementary, Good as Gold spotlights the inspirational story of Olympic and World Championship Gold Medal Winning Bobsledder Steven Holcomb, who grew up in Park City. Dr. Brian Boxer Wachler, who restored Holcomb's vision, is attending the 1:00 pm performance, to support and applaud Valley View Elementary School's student performers.
"I'm honored to be invited," says Dr. Brian. "It's going to be a real toe-tapping treat—watching these incredibly talented and creative young performers share Steven's story, which gives hope and inspiration to millions of Keratoconus sufferers around the world."
In 2002, Steven Holcomb was diagnosed with Keratoconus, a degenerative eye disease that distorts the cornea, causing vision loss. He kept the disease a secret, learning to drive the sled by feel. He retired in 2007 because he feared he was putting his team at risk, but his teammates didn't want to lose him because they knew he was their best hope for Olympic Gold. Then, the team doctor found Dr. Brian, who'd pioneered the first non-invasive procedure for Keratoconus. Steven underwent the treatment in 2007 followed by lens implants. After the procedure, later renamed the Holcomb C3-R, Steven went on to win the United States' first World Championship in 4-man bobsled in 50 years in 2009, Gold in 2010 Winter Olympics in Vancouver, the first American to win Olympic Gold in the four-man bobsled since 1948. Subsequently, he also swept World Championship Gold in 2012 in 2-man / 4-man and Team events as well as won two Olympic Bronze medals in Sochi in 2-man and 4-man as well.
In 2015, Dr. Brian – America's TV Eye Doctor – gave a TEDx Talk comparing Steven Holcomb's fight for sight with Dr. Brian's own fight to get Holcomb C3-R recognized as an accepted treated for Keratoconus, despite pushback from the vision correction community. Since introducing Holcomb C3-R, Dr. Brian has performed over 5,400 procedures, saving the vision of patients from 49 states and 44 countries, with ages ranging from 9 to 63. Today, Holcomb C3-R is a widely accepted procedure and has been featured on NBC Nightly News, NBC's Today Show, The Doctors, and Fox News. Dr. Brian has served on the Board of Medical Directors of a non-profit Keratoconus Foundation and is committed to spreading the word about non-invasive treatment options for Keratoconus.
You can follow Steven's journey to the 2018 Olympics on Twitter and Instagram @StevenHolcomb or on his Facebook Fan Page at http://www.facebook.com/StevenHolcomb
About Dr. Brian
Dr. Brian S. Boxer Wachler, MD is America's TV Eye Doctor and a world-renowned ophthalmologist, specializing in Keratoconus treatments, LASIK, and other vision correction procedures. He is the founder of the Boxer Wachler Vision Institute in Beverly Hills, California to further research into new vision correction procedures and provide patients with the most advanced vision care treatments. He has served on the Board of Medical Directors of a non-profit Keratoconus Foundation and was Chairman of the Communications Committee for the Internal Society of Refractive Surgery. Because of his expertise, he is routinely invited to lecture around the world on the latest advances in Keratoconus treatments, safety in refractive surgery, and other new refractive surgery innovations. He has published three books on Keratoconus in addition to over 65 peer-reviewed articles and book chapters in his field. He's been named one of "America's Top Doctors" by Castle Connolly and "Hollywood's Top Doctors" by The Hollywood Reporter.