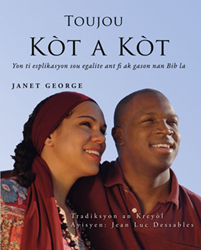 Minneapolis, MN (PRWEB) February 29, 2016
When Christians for Biblical Equality (CBE) published Janet George's short book, Still Side by Side, in 2009, its goal was to produce a simple resource to summarize the egalitarian position—that the Bible, properly interpreted, demands the equality of men and women. Today, Still Side by Side is playing a role in efforts to address violence against women in Haiti.
In 2012, CBE partnered with Beyond Borders to produce a Haitian Creole translation of Still Side by Side, and it is having an impact. Sara Siebert is a Violence against Women and Girls Prevention Specialist at Beyond Borders and an advisor for Raising Voices, who developed SASA! An Activist Kit for Preventing Violence against Women and HIV (SASA!). SASA! is a community mobilization approach to ending violence against women, being used by Beyond Borders in Haiti. Siebert explains that the Creole translation of Still Side by Side has become an important part of this program in Haiti:
"Still Side by Side in Creole is regularly requested in more copies by our network of religious leaders working to end violence against women. Now that we train other organizations to use the Raising Voices SASA! methodology, which we adapted for Haiti, those other local organizations often ask for Still Side by Side as a supplementary material when engaging Christian religious leaders."
CBE's president, Dr. Mimi Haddad, describes CBE's work as a perfect supplement to Raising Voices' SASA! approach. "SASA! is designed around the recognition that violence against women and the HIV/AIDS epidemic are rooted in a power imbalance between men and women. In much of the world, this power imbalance is justified by patriarchal readings of the Bible. For almost thirty years, CBE has sought to correct this grievous interpretive error. By supplementing the SASA! approach in Haiti with CBE's Still Side by Side, Beyond Borders has greatly expanded its ability to engage religious leaders with content specific to them."
Beyond Borders is an organization supporting Haitian movements to end child slavery, guarantee universal access to education, end violence against woman and girls, and replace systems that oppress the poor with systems that support dignified work and sustainable livelihoods.
In its effort to advance a biblical foundation for gift-based rather than gender-based ministry and service, CBE sponsors annual conferences, facilitates local chapters, hosts an online bookstore, and publishes two award-winning journals. For more information, visit http://www.cbeinternational.org.