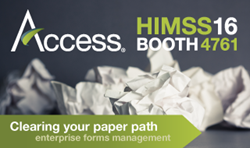 In addition to easily capturing patient forms and e-signatures and retrieving them from the cloud, our customers will also benefit from the flexibility of a SaaS option.
Sulphur Springs, Texas (PRWEB) February 29, 2016
Access today announced that it is partnering with CloudWave, a leading provider of cloud-based and on-site technology solutions. The partnership will enable hospitals and health systems to take advantage of Access's e-forms and electronic patient signature solutions, including the web-based Access Passport, via a convenient and cost-effective Software as a Service (SaaS) model.
"Hospitals need instant access to secure, reliable patient data, and that's what CloudWave's solutions provide," said Chuck Demaree, Chief Technology Officer at Access. "In addition to easily capturing patient forms and e-signatures and retrieving them from the cloud, our customers will also benefit from the flexibility of a SaaS option."
Hospitals worldwide use Access electronic forms management solutions to clear their paper paths—eliminating the expense, risk and inefficiency of paper forms. Access chose to power its SaaS solution with CloudWave for the reliability, security and performance that the company's OpSus Cloud offers. Built exclusively for healthcare and hosted in a Tier 4 data center, OpSus Cloud provides HITECH- and HIPAA-compliant managed services to hospitals and healthcare organizations for hosting, disaster recovery, archiving and remote systems management.
The OpSus Cloud has been designed to provide the security and compliance required by healthcare. CloudWave's achievements include SSAE 16 SOC1 Type 2 attestation, which provides assurance that the OpSus Cloud's systems design, policies, procedures and controls have successfully met objectives for operational effectiveness over an extended period of time.
Critical components to obtaining this certification include the ability to assess and reduce risk, assure business continuity and provide controlled security measures to ensure privacy and confidentiality of data. The integration of ITIL (IT Infrastructure Library) IT Service Management Practices into OpSus Cloud operations provides a framework for consistent governance and continuous improvement.
"Our new partnership with Access is both indicative of our commitment to diversifying our Healthcare Cloud to meet our customers' range of IT requirements as well as of our commitment to providing an open, robust, extensible platform to sustainably enable our partners' cloud operations. We are excited to work with Access and their customers," said Jim Fitzgerald, Executive Vice President of CloudWave.
Organizations that want to learn more about Access's solutions, including the joint CloudWave SaaS offering, can visit booth 4761 at HIMSS16. They can also visit CloudWave in booth 3973 to learn more about their solutions and services.
About Access
For more than 15 years, Access has developed electronic forms management solutions that eliminate the unnecessary expense, risk and inefficiency of paper forms. Our 100 percent paperless technology enables organizations in any industry to capture, manage, sign and share forms data without printing or scanning. Learn more at http://www.accessefm.com and help Access's partner The Last Well bring clean water and the Gospel to Liberia at http://thelastwell.org
About CloudWave
CloudWave provides on-site technology solutions for healthcare organizations as well as the industry-leading OpSus Healthcare Cloud, which acts as a bridge between healthcare legacy Platform 2 client/server applications and emerging Platform 3 web solutions with their greater demands for security, performance, and sustainability. The OpSus Healthcare Cloud provides the flexibility and TCO advantages of Public Cloud solutions while delivering the sustained performance required by clinicians and administrators in healthcare environments with end to end management. For more information, visit http://www.gocloudwave.com.