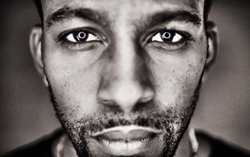 San Bernadino, CA (PRWEB) February 25, 2016
Today Coast 2 Coast Mixtapes announces the release of "Suicide Letter", the latest music video by San Bernadino native Zero. The song features fellow recording artists Axiom Tha Wyze and Natalie Grace. The video can currently be viewed in its entirety at the Coast 2 Coast Mixtapes website.
A visual art piece that discusses the emotional topic of suicide. Suicide Letter is a story of a man on the edge about to give it all up and end his life, while his best friend comes in and talks him of the ledge. A personal track for all the artists involved as suicide is something that unfortunately effects so many of us in an extremely personal way. Zero Natalie and Axiom have come together to bring awareness to the issue. Rather than sweep suicide under the rug and pretend it isn't there or something to forget, these artists throw it right in our face by confronting the issue head on.
Born in 1986 in San Bernardino, California, Cornell Johnson aka ZERO is a hip hop artist based out of Boise, Idaho. Influenced by artists such as Talib Kweli, Mos Def, Common and many other conscious artists, ZERO takes conscious artistry to a whole knew level. Capturing his fans with real life stories included in his music, his tell it all.
Over the last few years, ZERO has had the pleasure to share the stage with amazing artists such as Hopsin, Dizzy Wright, T. Mills, Myke Bogan, Illmaculate, Gonzoe, Murs, Krizz Kaliko and on multiple occasions, the one and only, Tech N9ne!
Recently, ZERO had released his first self-titled album including his powerful hit, "Suicide Letter" featuring Axiom ThaWyze & Natalie Grace. As the video released, directed by Cary Judd, it displayed his visual and conceptual vocabulary that emerged through his focus on the points of a topic most want to avoid.
Zero is currently seeking press opportunities, interviews, features, and more. He can be reached through official Eartlings Entertainment website.
About Zero: Cornell "ZERO" Johnson (born and raised in San Bernardino, Ca) is a Hip Hop Artist based in Boise, ID. As an Artist who creates conscious music, he hopes to be able to open the minds of listeners and bring hip hop back to the art of storytelling. His music and lyrics tell a story in each song as he delivers poetry-like lyrics and messages about his life and life in general. Songs of anger, sadness, retaliation, and happiness, he can do it all.
ZERO has been writing songs since he was ten years old, and still continues to write lyrics, poetry, and stories to this day. His creativity and imagination is engulf with times of peace and war intertwined in his heart. As an Artist, he is committed to truthfully remaining grounded and making music that can identify with us all and changing the label "Rapper" to "Artist".
"If Music is Life, I will be the boombox to project our soundtrack." ZERO
For all the latest music by Zero, be sure to check out his official Soundcloud page.
About Coast 2 Coast Mixtapes:
Coast 2 Coast Mixtapes are the most widely distributed mixtapes in the world, with over 100 million downloads/plays generated by over 300 volumes officially hosted by major artists. Coast 2 Coast has a solid reach in the new music industry with a digital magazine, DJ coalition, industry tips blog, yearly convention, and more. Coast 2 Coast Mixtapes represents a unique opportunity for artists of all urban genres, from major to indie. For more information, visit http://www.coast2coastmixtapes.com.