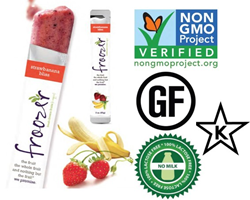 "We are receiving nothing but positive feedback from people who have tried Froozer® for the first time!" -- Co-Founder of Aegis Enterprises and Froozer® Chairman of the Board.
Boulder, CO (PRWEB) March 03, 2016
Froozer® CEO Rich Naha and Des Hague, Co-Founder of Aegis Enterprises and Froozer® Chairman of the Board, are delighted to announce that Froozer® will be available at Stater Bros. Markets (http://www.staterbros.com/) in Southern California starting next week.
Froozer® (http://www.froozer.com), a low-calorie, fruit- and vegetable-based, frozen smoothie without added sugars, preservatives or water, is currently available at various locations in Colorado (Whole Foods; Lucky's Market; Alfalfas; Colorado State University; Colorado University; Children's Hospital), Oregon (Zupans Market; Roth's; Friendly Street Market; Life Source; Food Front), Washington State (Island Market Company - Vashon Island Thriftway; A and J Markets; Pioneer Select; Forks Outfitters; Lopez Village Market - Lopez Island in the San Juan's) and Alaska (Hammer and Wikan; City Market).
"We are very excited that the Froozer® product is spreading its wings," said Naha. "We are receiving nothing but positive feedback from people who have tried Froozer® for the first time, including at the star-studded 'Honoring the Academy' event in Hollywood this past weekend. Froozer® is one brand to watch," concluded Naha.
"We are absolutely delighted that Froozer® is being well received by everyone who tries our product," said Hague. "At Froozer®, we set out to create a whole new way of delivering healthy nutrition that is good for you and tastes great, while being mindful of the environment by reducing food waste."
About Froozer® - "simple ingredients. real nutrition.™"
Froozer® products represent the pure goodness of freshly harvested fruits & veggies picked at the peak of their ripeness, flash-frozen whole and blended for optimal taste, nutrition and digestion. Natural fruits and veggies in all their glory, nothing added or subtracted, not even a drop of water. Available in three delicious flavors - STRAWBANANA BLISS, TROPICAL SUNSET and BLUE ALOHA - in 6-pack boxes. Look for Froozer® in your local grocery store freezer at selected retail locations in the Denver Area including WholeFoods and Alfalfa's, and various select retailers in Oregon, Washington State and Alaska.
For more information: http://froozer.com/
Contact: Rich Naha, CEO, Froozer®
Phone:303-246-1957, Rnaha(at)Froozer(dot)com
About Des Hague
A renowned executive with over twenty five years of leading global public and private companies, Des Hague has established himself as an innovative thinker in the international business world. His forward-thinking approach pushes companies toward sustainable growth, granting them a position as resilient competitors within their respective industries. Hague most recently was the CEO and President of Centerplate, Inc, the largest event hospitality company in North America. Source: http://deshague.com. Hague also serves on the boards of DVETelepresence, PING HD, WC&P, Lessons For Life, Froozer® and the Stamford Youth Foundation along with advising on several start-up ventures.
Along with his professional projects, Des Hague contributes significant amount of time and energy to non-profit charitable work. Hague has helped raise more than $100 million over the past few years for many non-profits, including the Stamford Youth Foundation, a local organization offering multiple after-school programs for young people, and The Journey Home, a Baltimore-based Foundation fighting homelessness. Hague views Aegis Enterprises, LLC as a perfect blending of business and philanthropic activities.
For more about Des Hague, visit: http://deshague.com
Des Hague - LinkedIn: https://www.linkedin.com/in/deshague
CONTACT INFORMATION
DesHague.com
Email: deshague(at)aegisenterprisesllc(dot)com