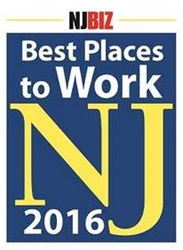 When you step into our offices, the care you receive is a reflection of these deeply held core values: compassion, respect, integrity, family, teamwork, and trust.
Parsippany, NJ (PRWEB) February 29, 2016
The divorce and family law offices of Weinberger Law Group have again been recognized as one of the best places to work in New Jersey by NJBIZ magazine. This is the third consecutive year that Weinberger Law Group has received this top honor for workplace culture.
Bari Z. Weinberger, New Jersey family law expert and founder of Weinberger Law Group, is thrilled with her team's 'three-peat' performance. "Our firm is made up of a cohesive team of dynamic, positive people and this shines through in all that we do, in caring for our clients….and in caring for each other. Being named a Best Place to Work in New Jersey for three years running is an incredible confirmation of all our efforts. This is a deeply personal accomplishment for all of us," she stated.
The annual ranking of New Jersey's top 100 best workplaces is based on employee surveys and evaluations of nominated companies' workplace policies, practices and guiding philosophies. According to Weinberger, the firm focuses on these areas from day-to-day activities, through to team-building workshops.
"Our attorneys and staff make it a priority to regularly come together to discuss the shared values that drive our commitment to our clients to safeguard their children, protect their assets, and secure their future. When you step into our offices, the care you receive is a reflection of these deeply held core values: compassion, respect, integrity, family, teamwork, and trust. We live by these values in how we interact with each other, and how we work together for the benefit of our clients," Weinberger confirmed.
As a result of its dedication, and in response to popular demand, Weinberger Law Group expanded their Bergen County offices this year, moving to a larger and more modern space directly across from the Bergen County courthouse in Hackensack. Additionally, the entire staff came together to participate in community outreach efforts, including partnering with The Center for Hope and Safety during Domestic Violence Awareness Month to collect used cellphones as part of Verizon's Hopeline Project to benefit domestic violence victims. The firm also released a free Kindle ebook on domestic violence legal rights during the month.
Weinberger Law Group is a family law firm, and it's also a family. As one attorney stated, "Weinberger Law Group is not just a place to work, it's a place I call my second home. My co-workers have become like my family, and I am consistently told that I am appreciated. I'm proud of the high level of legal care and guidance we're able to offer our clients, and also proud to be able to give so much back to the community. This is what we stand for."
Final rankings of NJBIZ's Top 100 Workplaces will be revealed at an awards ceremony taking place Tuesday, April 19, 2016 at iPlay America's Event Center in Freehold.
Weinberger Law Group is comprised of five conveniently located offices throughout New Jersey in Parsippany, Basking Ridge, Freehold, Hackensack, and Mount Laurel. The firm offers free initial attorney consultations for legal help with family law issues, including divorce, child custody, post-divorce modifications, domestic violence, prenuptial agreements, adoption, LGBT-related family law issues, and all other family law matters. For more information about Weinberger Law Group, please visit http://www.WeinbergerLawGroup.com or call (888) 888-0919.