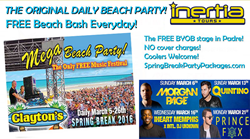 Old school spring break is back with a big public beach party everyday!
South Padre Island, Texas (PRWEB) February 26, 2016
Inertia Tours and SpringBreakPartyPackages are pleased to announce their partnership with RedBull Energy Drink for Spring Break 2016 on South Padre Island, TX. This partnership will make the beverage brand the official presenting sponsor of Inertia packages featuring the only BYOB daily Beach Bash on South Padre Island in March.
This month long party will feature international recording artists and a BYOB "bring your own beverage" environment where students on a budget can come to experience Spring Break like nowhere else. RedBull will be available with their stunt team for the iHeartMemphis performance live on March 16th at 12 noon.
"We're so excited to use these partnerships to provide students traveling to South Padre with an entirely Free beach stage every day. Collegiates on vacation to Texas can bring their coolers and sink their toes into our warm southern sand", commented Chad Hart the Founder of Inertia Tours and best-selling author of the book "The Definitive Guide to Student Travel." Our sponsors like Red Bull and Budweiser have been synonymous with these types of signature events throughout the world, and we look forward to bringing another amazing experience to students this year."
SpringBreakPartyPackages Tour Manager Jim Faile agrees that "Inertia Tours brings thousands of travelers to South Padre, and we have worked hard to ensure that they are getting the largest on site party program in terms of volume of students. The month of March will feature daily DJ and artist performances at all of our parties, and the Official Inertia Spring Break Stage at Clayton's Beach Bar will be no charge to everyone!" Daily beach events will occur seven days per week beginning March 5th and finishing March 26th. Mega-concerts at the only Beach Bash with zero cover charges on the massive stage will include performances by Morgan Paige (March 6), Quintino (March 13), I Heart Memphis (March 16), Crizzly (March 17), TWRK (March 18), and Prince Fox (March 23).
These daily Beach Bash events cost nothing to attend. Students can purchase a 3 Night, 4 Night, or 5 Night VIP Party Package to enjoy all of the day and night time events and concerts at springbreakpartypackages.com. This Spring Break Party Package allows students to get complementary access for their entire stay these events at some of South Padre Island's hottest clubs like Louie's Backyard, Tequila Sunsets, Clayton's Beach Bar, and even a night time pool party at the Peninsula Resort with a performance by Party Favor. For more information about Spring Break on South Padre Island, Texas, please visit http://www.springbreakpartypackages.com.
About Inertia Tours:
Inertia Tours is the largest provider of college spring break to South Padre Island. Packages include condos or hotels, meals, the biggest parties as well as the infamous Party Yacht Cruise. Inertia has been featured multiple times on the Travel Channel and hosts the top channel for spring break videos on youtube.com/inertiatours. Current sponsors include Budweiser, Beatbox, Red Bull & San Marvelous clothing brand.
About Clayton's Beach Bar:
Clayton's has become the Island's #1 event venue hosting artists such as Ludacris, T-Pain, Nelly, Sublime with Rome, J.Cole, Big Sean, and many others. Clayton's hosts the biggest Spring Break Artists on South Padre Island. Clayton's is one of the Travel Channel's five best beach bars in the US. Their famous beachfront deck & party stage is the center of daytime Spring Break activities in South Padre. This year they host Kesha, Afrojack, DJ Skribble & more.
About SpringBreakPartyPackages:
For over a decade, SpringBreakPartyPackages has provided the ultimate day and night time experience for spring breakers. As the original industry leader, SpringBreakPartyPackages has provided entertainment for hundreds of thousands of students. These parties are preferred by college students because they offer a unique experience where they experience the wildest parties, most beautiful beaches, and the best Spring Break vacation all in one party package. The packages are promoted by 6 different spring break tour Companies such as Inertia Tours, SWAT, Student Breaks, STS Vacations, Lifestylez & more.