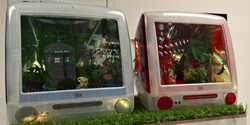 We're always looking for ingenious ways to make our clients' tech work smarter for them, but we care about what happens to the old tech too so in true Shoreditch style we've upcycled these old Macs - Thomas Jeffs
London, England (PRWEB UK) 1 March 2016
Lucidica like to think outside the box and this may be their most resourceful idea yet! The brilliant adaptation of this iconic piece of technology has become a real talking point within the office and an excellent home for the Siamese Fighting Fish, and 6 neon tetras.
Up-cycling just one iMac wasn't challenging enough for Lucidica so they decided to create 2 iMac fish tanks joined together by a clear plastic pipe so the fish could swim between the two screens - fish screensavers are still in style!
For more pictures and details check the blog post here; [http://www.lucidica.com/blog/random-technology/apple-imac-fish-tank/ .