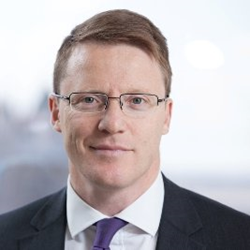 "I am delighted to join ClearlySo at what is such an exciting and dynamic time for impact investing, and for such a recognised leader in the market."
London, UK (PRWEB UK) 29 February 2016
ClearlySo, the United Kingdom's leading impact investment intermediary, announced today that Matthew Vickerstaff has been hired as head of investment banking. In this new role, Vickerstaff will assume overall responsibility for ClearlySo's established investment banking and capital raising activities; including equity and debt placement and corporate finance advisory business. This role will include the firm's activities with early stage high-impact entrepreneurs, more established businesses and impact investment funds.
Vickerstaff joins ClearlySo after a successful career at Societe Generale where he was responsible for managing the global structured finance teams including infrastructure, real estate, aircraft, shipping sectors, and export finance. Before his 17 years at Societe Generale where he spent time in Toronto, New York, Paris and London, Vickerstaff began his career at Hambros Bank. He brings a wealth of advisory, bank financing, fixed income and capital markets, project finance and other structured finance experience, as well as broad sector knowledge and expertise; which will be highly valuable for ClearlySo's clients and investors.
The addition of Vickerstaff comes on the heels of ClearlySo's announcement that capital raising activity for their clients has surpassed £100 million and the firm gears up for further growth as impact investing rises to prominence.
Matthew Vickerstaff, head of investment banking, stated: "I am delighted to join ClearlySo at what is such an exciting and dynamic time for impact investing, and for such a recognised leader in the market."
Further commenting, Rodney Schwartz, founder and chief executive: "It says a great deal about the development of impact investment, and ClearlySo's position in this field, that it was able to bring in someone of Matthew's outstanding calibre. He will significantly broaden our capacity to add value to clients, challenge us to bring in the best of mainstream practice and accelerate the development of our human capital. We are confident that Matthew shares deeply the values which underpin this field, and it says a great deal about Matthew that he saw the opportunity to use his valuable skills to change the world."
Vickerstaff joins three other members of ClearlySo's management team, comprising Head of Impact Services Lindsay Smart, ex-Vigeo UK/US head, Chief Marketing Officer John Lloyd, who recently arrived from Fintech leader Traiana, which successfully exited in a trade sale to ICAP in 2007, and Founder and CEO Rodney Schwartz.
For more information and interview requests, please contact: zoe.tabacek@clearlyso.com
Notes to editors
About ClearlySo
ClearlySo is the United Kingdom's leading impact investment intermediary, working exclusively with
businesses and funds delivering social and/or environmental impact as well as financial return. It
supports capital raising activity through financial advisory work, and introduces businesses, charities and
funds to institutional and high-net-worth individual investors who share their values.
Originally founded in 2008, ClearlySo has helped more than 75 businesses raise more than £105 million in
impact investment, including over £5 million investment into early-stage businesses from Clearly Social
Angels, the UK's largest impact orientated angel investor network.
ClearlySo is headquartered in London.